"Your World is an Illusion" is the 11th episode of Season 2 of OK K.O.! Let's Be Heroes and the 63rd episode overall.
Official Synopsis
K.O. tries to help a hero in need and ends up needing some help of his own.[1]
Plot
K.O. meets a new character named Holo-Jane; and he learns that his world is not what it seems. K.O. starts seeing all the cliches that happen in cartoons, like endless food and only being able to pick up items that are lit up and other things. Refusing to believe her, K.O. attempts to go about his day and is horrified to learn that his entire life is fake. He finds himself on the outskirts of his reality and needing Holo-Jane's help.
Features
Characters
Music
Soundtrack
Trivia
This was the last episode Parker Simmons boarded on the show.[2]
This is the second episode where Raymond battles without his siblings.
This is the first time an onscreen character interacts with the episode title card.
Continuity
K.O. referred to his flashbacks from "T.K.O." before he met with Holo-Jane.
The Jail from "We Messed Up" appears when Raymond was about to land in it but only landing in the Dentist Building because his teeth were damaged. In the same episode, the gag appeared with Crinkly Wrinkly but he landed in the Library because he was reading from the Bodega. It's mostly a comical gag to parallel the actions of the characters.
Videos
Gallery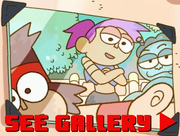 Transcript
View the episode's transcript here.
References List