"You Are Rad" is the 16th episode of Season 1 of OK K.O.! Let's Be Heroes and the 16th overall.
Official Synopsis
When K.O. forgets his name tag, Rad lets him use his, which results in everyone thinking that K.O. is Rad, including Rad himself.[1]
Plot
TBA
Features
Characters
Music
Songs
Soundtrack
Trivia
The scene K.O. and Rad burp out, and the announcement of round numbers, are cut out from other versions of the episode.
Production Notes
There was a removed scene that would have taken place after Rad tosses his name tag to K.O. in Act 1 which was cut due to time. Before Rad left, he tosses the cassette tapes (which had Rad's mix tapes) to K.O. and Enid for them to listen to. Enid tosses the cassette tape in the garbage and throws the bin away. The scene was written and boarded by Ryann Shannon.[2]

This scene would have established Rad's affinity for rapping that sets up for the rap battle later but instead was established spontaneously in Act 3.
Continuity
Errors
The episode reuses the credits for "Jethro's All Yours" instead of having its own, leaving the people that worked on this episode but not "Jethro's All Yours" uncredited.
Transcript
View the episode's transcript here.
Gallery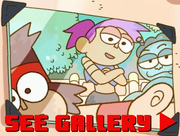 Videos
References List