"You're a Good Friend, KO" is the 13th episode of Season 3 of OK K.O.! Let's Be Heroes and the 105th episode overall.
Official Synopsis
K.O. brings Dendy along for a hero mission in order to cheer her up. [1]
Plot
At Lakewood Public School, K.O. reads from his history book as everyone else listens on boredly. Suddenly, the lights shut off, causing everyone to freak out in excitement. K.O. and Dendy are summoned for a hero mission, and as they start to leave their classroom, everyone ridicules Dendy, hurting her feelings. She reveals to K.O. that she is jealous of how everyone else praises him for being a hero, so K.O. invites Dendy to the mission to prove to the world that she is worthy of being a hero.
Features
Characters
Trivia
Production Notes
The crew wanted to do an episode that was kids only.[2]
Continuity
Videos
Gallery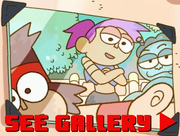 Transcript
View the episode's transcript here.
References List