Jurassic World: Dominion Dominates Fandom Wikis - The Loop
Play Sound
"

Getting a pow card is the first major milestone on a hero's path to greatness.

"
—K.O.
"You're Level 100!" is the 6th episode of Season 1 of OK K.O.! Let's Be Heroes and the 6th episode overall.
Official Synopsis
When K.O. finally gets a Pow Card, he finds out he's level 100, instantly making him a celebrity and the idol of everyone.[1]
Plot
K.O. finished washing the floor as Rad told him. Rad judges him by sliding Colewort until he hits the fridge, which K.O. fails. Rad remarks that K.O. has to make more steps to become a hero. K.O. checks out to the Pow Card Machine to see if he has his own Pow card ready after doing a week of heroic deeds. The Pow Card Machine runs into a printing error leading to Rad teaching K.O. to punch the machine to get it to work. K.O. receives his own Pow card spots his level as 100. Enid, Rad, and the hero's in Gar's Hero Supply & Bodega checks out his Pow Card and admires him for reaching a high status.
Dynamite Watkins and Action News 52 covers K.O.'s story of him reaching level 100 at Lakewood Plaza Turbo with the crowd hearing people. K.O. signs autographs to the people, including Lord Boxman. Lord Boxman hears the news and doubts K.O.'s ability, which he unleashes a giant-sized Darrell with a level of negative 100 to test K.O.'s ability. Enid and Rad suggests K.O. to hold off the fight between Big Darrell, however, K.O. accepts Lord Boxman's challenge and believes he will take down Big Darrell easily. The crowd cheers for K.O. with Enid and Rad worrying for his safety.
K.O. initiates the first fight but Big Darrell flicks K.O. to the ground. K.O. is anger for losing the first punch and tries to attack Big Darrell again, however, Big Darrell uses K.O. to write out "GET WRECKT" on the parking lot. K.O. is confused on how he has not defeated Big Darrell and takes out his Pow card as a reminder of his status. Big Darrell looks over at K.O. and assumes he has his phone out. He takes K.O.'s Pow card and tosses it to the ground, much to Lord Boxman's amusement. K.O. retrieves his Pow card glitching to reveal his true level is zero. K.O. feels dejected for learning his true level.
Big Darrell takes the upper arm to finish K.O. after K.O. decides to back out, but, Enid and Rad enters the fight in K.O.'s place by climbing onto Big Darrell. Big Darrell brushes them away. Red Action destroys K.O.'s autograph after hearing that he is a level zero and A Real Magic Skeleton wants to give K.O.'s autograph away. K.O. tells Mr. Logic to scan everyone's levels that adds up to 100. The heroes of the plaza decides to form a giant arm for K.O. to battle Big Darrell.
K.O. annihilates Big Darrell in one smack and the Darrell operating it. Lord Boxman's desk hovers to the bushes when he loses control and falls into it. Lord Boxman runs away to Boxmore defeated. K.O. is grateful with the help from the other heroes despite believing his efforts are not much. K.O. notices that his Pow card level when from zero to 0.1. K.O. celebrates his achievement. Rad was about to tell K.O. about how power levels are not important, but Enid decides to let K.O. have his moment.
Features
Characters
Music
Soundtrack
Trivia
Turbo K.O., K.O.'s "dark" side who was revealed in the episode "T.K.O.," was foreshadowed in this episode. When Big Darrell flung K.O. into the pavement, he grew incredibly angry and frustrated. In the midst of his anger, his eyelids darkened to a deep, shiny purple, his teeth sharpened, the tips of his hair and sideburns get messy and his fists began to emit small sparks of purple electricity. Additionally, his attacks also became purple instead of their signature light blue.

T.K.O. also could be the reason as to why K.O.'s power was seen as 100 at first.
Production Notes
This episode was originally titled "Level 100".[2]
Continuity
Lord Boxman tells K.O. that his encounter with him from "Let's Be Friends" was "prank" for him and that he lost to K.O. on purpose. He believes that K.O. could not have acquired level 100 within the week.
Lord Boxman complimented Darrell for doing a good job which he was disappointed in him from "Let's Be Friends".
Before K.O. fights Big Darrell, Rad suggested to get Mr. Gar as Mr. Gar easily defeated Darrell in "Let's Be Heroes".
Flashbacks from this episode are shown in "Let's Not Be Skeletons".
Errors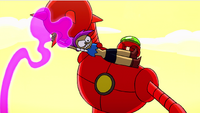 When Enid hits Big Darrell, she seemed way bigger than she should be. Compared to the size of regular Darrell, Enid is much larger.
Kali Ciesemier was uncredited from the Color Designers list.[3]
Videos
Gallery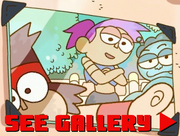 Transcript
View the episode's transcript here.
References List