"Whatever Happened to... Rippy Roo?" is the 8th episode of Season 3 of OK K.O.! Let's Be Heroes and the 100th episode overall.
Official Synopsis
Rippy Roo visits the plaza.[2]
Plot
TBA
Features
Characters
Trivia
The beginning clip of this episode was shown at the RTX Event on July 5-7, 2019.[3]
This is Rippy Roo's official debut in the present time as her previous appearances were in flashbacks.
Production Notes
On October 11, 2018, Kate Flannery tweeted that they had finished recording for the hundredth episode of the series.[4]
Two lines of Rippy Roo's dialogue is revealed to be: "I can tell he takes after you" and "He'll be a great hero one day".[5]
This episode was meant to slyly reintroduce viewers to the Laserblast/P.O.I.N.T. drama in case they'd forgotten it.[6]
Continuity
Dendy acquired a Pow Card of EN1D whom debut from "OK A.U.!".
This episode sets-up as a recap for events after P.O.I.N.T. to follow up on Rippy Roo and before getting into "Big Reveal".[7]
Cultural References
The title of the episode is a reference to the Cartoon Network series Whatever Happened to… Robot Jones?.
One of Dendy's rare cards, the "Blue-Eyes White Colewort," is a reference to the Yu-Gi-Oh! Duel Monsters card, "Blue-Eyes White Dragon," which is similarly rare in various adaptations of that series.
Videos
Gallery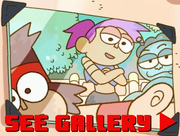 Transcript
View the episode's transcript here.
References List