"Whacky Jaxxyz" is the 30th episode of Season 2 of OK K.O.! Let's Be Heroes and the 82nd episode overall.
Official Synopsis
When the hot new toy trend of Whacky Jaxxyz comes to Lakewood, K.O. says goodbye to his POW Cards.[1]
Plot
TBA
Features
Characters
Music
Soundtrack
Trivia
A preview of the episode was uploaded on February 19, 2019, on the CN YouTube channel.
This episode aired in Russia on Thursday, May 30, 2019.[2]
Production Notes
The episode was originally spelled as "Wacky Jacks" but the legal department made the show to change the spelling.[3]
Cultural References
There are numerous anime references in this episode:

The Whacky Jaxxyz game resembles the classic marble shooting game B-Daman.
The Wackiest Jaxxies Under the Heavens Tournament is a reference to the Japanese name of The World Martial Arts Tournament in the Dragon Ball franchise: Tenkaichi Budokai, which translates to "The Number One Under Heaven Martial Arts Gathering"
The Shade'O Realm is based on the Shadow Realm dimension from the 4Kids Entertainment dub of the Yu-Gi-Oh second anime series. The battlefield and use of life points are also based on the anime's frequent holographic and virtual duels. The fact that the losers remain frozen in the realm (which Jack calls "The Zero Zone") is based on the anime's penalty for the losers in Shadow Games.
The Whacky Jaxxyz players wear what is clearly intended to be a Duel Disk.
Jack Whacky's flamboyant demeanor and verbal tic of calling other players "~boy" is derived from the character, Maximillion Pegasus.
Johnny's Brain Crush attack on Jack Whacky is based on the "Mind Crush" attack Yami Yugi used on Kaiba in the second series' first episode.
At one point in the episode, Johnny taunts K.O. and Nanini by calling them "foolish fools." This is most likely a reference to Yu-Gi-Oh: The Abridged Series, a long-running parody of the 4Kids dub by Martin Billany, AKA LittleKuriboh. (Incidentally, Christopher Niosi, the voice of Ernesto, voiced Noah Kaiba in YGOTAS.)
Jack mentioning his mother's "jelly donuts" accompanied by a thought cloud of an onigiri platter is a reference to the infamous Pokemon scene from the episode "Primeape Goes Bananas" where the character Brock (among others) constantly refers to the onigiri as "jelly-filled donuts".
Upon being defeated and geeking out over the Twin Dragons attack, Johnny utters the phrase "yare, yare," which translates to "good grief," and is well-known as the catchphrase of Jotaro Kujo from the Jojo's Bizarre Adventure franchise.

Johnny's attire is based on Moxy from the Cartoon Network series, The Moxy Show.
The Twin Dragons attack resembles the ultimate attack of Hanzo from Overwatch. The name itself might be a reference to both Hanzo and his brother Genji.
Videos
Gallery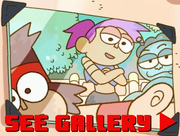 Transcript
View the episode's transcript here.
References List