"

Don't go in my office! And don't disappoint me.

"
—Mr. Gar
"We Messed Up" is the 4th episode of Season 1 of OK K.O.! Let's Be Heroes and the 4th episode overall.
Official Synopsis
KO, Rad and Enid accidentally break one of Mr. Gar's prized possessions![1]
Plot
K.O. and Enid watches Rad talking to his muscles over who is more attractive. Mr. Gar commands Rad to not slack off and unpack a box. Rad unpacks the box that contains Mr. Gar. Mr. Gar tosses the cat food for Enid to scan quickly. Mr. Gar pressures Enid to not disappoint him and finishes bagging the cat food. Mr. Gar tells K.O. to not disappoint him by helping him get to his car. K.O. carries Mr. Gar inside his car and returns back to Gar's Hero Supply & Bodega.
Mr. Gar drives into the store to congratulate the Bodegamen for completing their objective. Then, Mr. is alerted for his super top-secret mission leaving the Bodegamen in charge of the store. He informs them to not go into his office and not disappoint him again. At first, the Bodegamen decides not go to his office, however, K.O. suspects that they would do a better job if they know him better if they peek at the office.
Rad, Enid, and K.O. enters Mr. Gar's office which contains numerous surveillance monitors. K.O. notices Mr. Gar's pictures of meeting the President of the Universe and fighting Lord Boxman, however, spots a picture of Carol in her past. Mr. Gar enters back to the Bodega and the Bodegamen are feared. K.O. lets go of the picture of Carol and Enid loses control grabbing the picture. Rad accidentally blasts the picture. K.O. suggest for them to confess however, all three of them imagine his harsh reactions if they did confess. K.O.'s other suggestion is for Enid and Rad to distract Mr. Gar from going to his office while Carol recreates the photo.
Enid's and Rad's distraction for Mr. Gar was for him to see their "new dance." K.O. enters the Fitness Dojo through the vents and informs Carol his situation. Carol recalls her past experience with Mr. Gar by keeping it to herself. Carol agrees to help out K.O. Back at the Bodega, Mr. Gar gives Enid's and Rad's a 7.5. Before Mr. Gar heads to his office, Enid tells him that someone is reading a magazine for free. At the Fitness Dojo, Carol finds her old outfit and suggests K.O. to wear it since it would not fit on her.
At the Bodega, Mr. Gar throws out Crinkly Wrinkly to the library for reading for free. Rad prevents Mr. Gar from entering the office by forgetting how to mop. At the Fitness Dojo, Carol takes a picture of K.O. in her outfit and K.O. quickly goes through the vents with the picture. Mr. Gar shows Rad how to mop and tosses him out of the way. Enid tells Mr. Gar something is out from the window. Rad creates a puppet with a puppet Mr. Gar fighting a puppet Lord Boxman. Mr. Gar smiles, then hears someone come out of the vents. He follows K.O.'s trails until K.O. loses Mr. Gar. K.O. approaches near Mr. Gar's office and enters, angering Mr. Gar.
Mr. Gar rushes through his office and sees Enid, Rad, and K.O. near the pictures. K.O. confesses what the Bodegamen did leading to Mr. Gar being very disappointed in them. Carol enters to the office to give Mr. Gar a copy of the photo. Mr. Gar and leaves. Mr. Gar is embarrassed for threatening the Bodegamen and agreed to not speak of the situation. The Bodegamen leaves the office and Mr. Gar safely stores away the picture of Carol.
Features
Characters
Music
Soundtrack
Trivia
Production Notes
This episode was originally titled "Mr. Gar's Office".[2]
Continuity
Videos
Gallery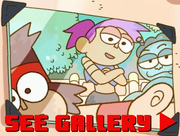 Transcript
View the episode's transcript here.
References List