Obi-Wan Finale - The Loop
Play Sound
"We Got Hacked" is the 18th episode of Season 1 of OK K.O.! Let's Be Heroes and the 18th episode overall.
Official Synopsis
Dendy helps K.O., Enid and Rad stop a glitch that threatens to take over the bodega.[1]
Plot
K.O. gets a new mop. It ends up going crazy and cleaning everything in the store, including people. K.O., Rad, and Enid all try to stop it but they just end up getting pushed over by it. So K.O. calls Dendy to try and fix the mop.
When she comes, K.O. says "Dendy! We have a problem!". She misunderstands him and points out Enid's, Rad's, Mr. Gar's, and the mops problems. Then Mr. Gar picks her up and screams at her to fix the mop. She uses her backpack to get some cords and puts them in the mop. She opens up hologram computer screens. A red one appears and Dendy states that is a pop-up ad and tells K.O. not to touch it.
K.O. clicks it and a lot of other adds appear and it corrupts the mop and makes it explode releasing pink goo. The pink goo ends up corrupting the people into "glitches" that are like CGI looking zombies and most bite people to spread the glitch.
Everyone in the store gets corrupted but K.O. and Dendy. So K.O. and Dendy heads to the backroom to try and hide from the glitches. Dendy said that they need her backpack in order to stop the glitches and reset the plaza, but she left her bag in the store which is blocked off by all of the glitches.
They thought it was the end for them and decide to sit and stare at each others eyes so that the last thing they see is a friendly face. The glitches were taking too long and they become bored of staring at each other. The glitches were frozen because of how many there were. K.O. sees that this is a chance to get Dendy's bag. They get to their bag, but the glitches unfreeze. Dendy says that in order to fix the glitches he needed to connect all of them using a cord then press "Control", "Alt", and "Delete" at the same time.
K.O. hooks all of them up to the cord and clicks "Control" and "Alt", but then, corrupted Potato bit him and just as he was about to get corrupted, Dendy clicked "Delete". Then everything gets sucked up into the backpack and it resets everything and everything goes back to normal, except for K.O.'s face.
Features
Characters
Music
Soundtrack
Trivia
Production Notes
Continuity
Cultural References
Gallery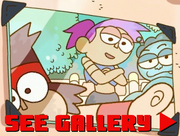 Transcript
View the episode's transcript here.
References List