"We've Got Fleas" is the 29th episode of Season 1 of OK K.O.! Let's Be Heroes and the 29th episode overall.
Official Synopsis
When Mikayla, a new animalistic robot, attacks K.O., Rad, and Enid have to think outside the box to defeat her.[1]
Plot
The episode starts at the bodega with K.O. is making his animal companion, Baby Teeth, some nachos. An alarm triggers and it's another one of Boxman's robots, as K.O. check things out with Enid and Rad, the box appears and the robot tries to break out of the box, Rad just thinks its not a threat. The robot finally breaks open the box, and its a new animal-like robot, who introduced herself as Mikayla. K.O. introduces himself to this new robot, but the robot nearly attacks K.O., who was saved by Rad, and the 3-on-1 battle ensumes. However, due to Mikayla's animal-like abilites, they get defeated easily.
K.O. then tries to make peace with Mikayla, but she has other plans while she's digging. Enid and Rad regroup with K.O. to find a way to defeat Mikayla and her animal-like powers, K.O. gets an idea on calling his animal companion, Baby Teeth, but she is busy eating the nachos he (K.O.) made earlier. With that plan out of the window, K.O. then say that they can turn into animals. When Rad ask how they change into animals, Dendy appears out of Rad's van and she explains that they need to be bitten by a were-animal and the enzyme will bring out an organism's inner beast. The trio all agree to this as they see Crinkly Wrinkly sitting on a bench, they all rush up to him to get him to bite of them. One by one, Crinkly bites Enid, K.O., and Rad and admits that he wanted to bite them. After Crinkly leaves on a bus, Enid scolds him for biting her and the others.
All of a sudden, Enid grows a bunny's tail from her backside, and as Enid takes notice, she begins to grow ears and whiskers and Enid fully transformed into a bunny,. Enid claims this is her inner animal because she is quick on her feet. Rad thinks his were-animal can be a wolf because of his machoness. After he tears off his shirt and grows fur, he gains a collar with a bell and his inner animal is cat because he's clean (which is not true because for his love of cats). K.O. gets excited about what his inner animal gonna be, he grows a tail and Enid and Rad, happily, says his inner animal is a puppy because of him being cute and his small size. While Enid pets K.O., he transformed into a dog, while Enid and Rad are petting K.O., they forget Mikayla, who attacks Rad. The trio all use their new animal powers to defeat Mikayla in battle. Afterwards, Rad asks how they'll change back into human and they don't have a way. The three of them decide to stay as animals.
Back at the bodega, the three of them embrace their new animal forms. Unfortunately, they've gain fleas and they immediately regret their animal forms. They try several ways to change back to normal (getting a haircut, getting a human to bite them), but they all fail. Ultimately, they decide to go back to Crinkly Wrinkly, who doesn't have a way of them to transform back, which a mad K.O. asks why Dendy didn't tell them that, who said that they didn't ask. Potato encounters them and tells them there's a place for them to fit in. At Fantastic! Video Store, the gang all find Potato in a human costume, who tells them that they're others like her, including Mikayla, who gives them new outfits for them.
Back at the bodega, the trio are in their new outfits, with them learning they can embrace their new forms, even if it means they stay animals forever as the episode ends. 
Features
Characters
Music
Songs
Soundtrack
Trivia
Continuity
Cultural References
Errors
Videos
Gallery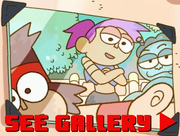 Transcript
View the episode's transcript here.
References List