"Villains' Night Out" is the 41st episode of Season 1 of OK K.O.! Let's Be Heroes and the 41st episode overall.
Official Synopsis
Lord Boxman forces his way into an exclusive Villains party.[1]
Plot
TBA
Features
Characters
Music
Songs
Soundtrack
Trivia
Toby Jones announced Justin McElroy as the voice of a new villain [Billiam Milliam] in this episode on his Twitter.[2] Justin McElroy then confirmed this on his own Twitter.[3]
It's revealed in this episode that Lord Boxman is currently working on a project involving Glorbs.
Continuity
This episode takes place at the same time with the next episode, "Villains' Night In".
Flashbacks from this episode are shown in "Action News".
After watching Lord Boxman dance, Professor Venomous says it is "inane", which lines up with Fink saying the same thing after watching a video of Lord Boxman in "Villains' Night In".
Lord Boxman does another short video with Darrell from the "Life of Darrell" skit from "Plaza Shorts" and again, fails to succeed.
Cosma and Vormulax shows more disdain towards Lord Boxman as previously shown his behavior in "Stop Attacking the Plaza". At this point, Cosma has not known Lord Boxman been attacking the plaza after the episode.
Cultural References
The video Lord Boxman plays to Cosma and Vormulax, is a reference to Looney Tunes' Bugs Bunny cartoon and gags.
The fourth wall is broken when the video Lord Boxman plays to Cosma and Vormulax ends with the words saying "A Cartoon Network Studios Production".
The Monarch and Dr. Mrs. The Monarch from The Venture Brothers make a hidden cameo appearance in the crowd during the Villains' party.
Videos
Gallery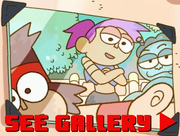 Transcript
View the episode's transcript here.
References List