"Villains' Night In" is the 42nd episode of Season 1 of OK K.O.! Let's Be Heroes and the 42nd episode overall.
Official Synopsis
While Boxman and Venomous are out, Fink is reluctantly babysat by Darrell and Shannon.[1]
Plot
TBA
Features
Characters
Music
Songs
Soundtrack
Trivia
Production Notes
In the storyboards, Fink recommended Darrell and Shannon to watch something that "isn't completely asinine." The word asinine was replaced with inane for an unknown reason.[3]
Continuity
This episode takes place at the same time as "Villains' Night Out".
After watching Boxman's video on the TV, Fink calls it "inane", which lines up with Professor Venomous saying the same thing after watching Lord Boxman dance in "Villains' Night Out".
Cultural References
The close up smile of Fink is a reference to The Grinch.
The game Darrell, Shannon, and Mikayla played, Golden Statues, was a similar reference to the Five Nights at Freddy's franchise when the player must shine a flashlight at the Animatronics face to freeze them in place and keep them away from the room or area that the player is at currently at.
The line of Fink, "If you have to ask, you'll never know." is a reference to the song by the Red Hot Chili Peppers called If You Have to Ask.
Videos
Gallery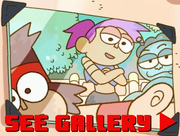 Transcript
View the episode's transcript here.
References List