Teamster is both a hero and a builder. He is the one who rebuilds the plaza whenever it gets destroyed, as seen in "Stop Attacking the Plaza."
Physical Appearance
Teamster has tan skin with a big, light blonde mustache. He has big, bulky arms and upper body, with slender legs. He is also chubby in the lower part of his face. He has a small red and yellow hat, that matches his clothing. He wears red overalls that overlaps his yellow t-shirt, along with red shorts and long, black boots.
Abilities and Powers
Teamster has the ability to create clones, but they often quarrel and discuss, which can cause many problems. He is also able to build buildings and fix machines, a thing that gets much easier with its cloning abilities.
History
Teamster helps K.O. defeat Big Darrell.
Teamster drives his tow truck to tow a broken bus from K.O.'s school.
He moves the Action 52 backdrop to the side when Dynamite Watkins interviews the Bodegamen.
His cloning ability is shown in this episode, two . He helps the Bodegamen build the plaza after T.K.O. destroys it. One of his clones patches up the concrete while the other one picks up the remains with a bulldozer.
They fix the street within K.O.'s neighborhood. One of the clones guides the traffic to not interfere with the construction work. The other operates a jackhammer and another one operates an excavator. They got mad at T.K.O. when he stole the jackhammer from them.
Episode Appearances
Gallery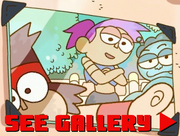 References List