"Stop Attacking the Plaza" is the 28th episode of Season 1 of OK K.O.! Let's Be Heroes and the 28th episode overall.
Official Synopsis
Boxman must go 24 hours without attacking Lakewood Plaza Turbo.[1]
Plot
When Lord Boxman's obsession with attacking Lakewood Plaza Turbo cuts into his meeting with company investors, who are already annoyed that he cares more about the plaza than actually running Boxmore, Cosma forces him to stop attacking the plaza for 24 hours or they'll cut all his funding. Boxman barely lasts five minutes before the temptation proves too strong, and so he tries to tie himself to a bed. After Ernesto breaks the news to the rest of the Boxbots, they decide to have a family dinner to distract him, but Boxman vehemently denies having any obsession even though Shannon points out that said obsession is why the Boxbots exist in the first place.
Boxman leaves the dinner in a ranting rage and pauses to reflect on his life in the manufacturing floor. Realizing that all he ever wanted was to build robots, he decides to spend time in the lab to get in touch with his old creative genius. Despite spending almost all of the 24 hours in peace and solitude, he ends up creating a scale model of the plaza.
Faced with the fact that he's obsessed and with five minutes left, Boxman goes to Gar's Bodega to tell K.O., Rad, and Enid why he hasn't been attacking them and that he intends to give up. The trio try to get Boxman to attack them and break the deal as a way to be rid of him once and for all, but he refuses to give in and they realize that he really means it, so they agree to let him go peacefully. Infuriated that his enemies think he's going soft and with the 24 hours over, Boxman gives them a tantrum-fueled rant as he leaves and swears that he'll destroy the plaza.
In his office, Cosma reports that she is impressed that Boxman was able to hold up his end of the deal. Boxman explains that he doesn't need to destroy Lakewood Plaza Turbo... but he still WANTS to and sends the Boxbots out for another attack run.
Features
Characters
Music
Songs
Soundtrack
Trivia
The family dinner scene originally included the robots arguing how to distract Boxman from thinking about attacking the plaza, but it got cut.[2]
It is revealed in this episode that Lord Boxman has a dog, though she is not referred to by name.
Continuity
Cultural References
The board game the Boxman children are playing appears to be similar to the real-life game called "Don't Wake Daddy".
Errors
In many shots, Lord Boxman has 4 fingers in his chicken arm instead of the usual three.
During the final scene, Boxman presses his attack button six times, but only five boxes drop on Plaza property.
Videos
Gallery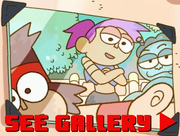 Transcript
View the episode's transcript here.
References List