Jurassic World: Dominion Dominates Fandom Wikis - The Loop
Play Sound
"Sidekick Scouts" is the 31st episode of Season 2 of OK K.O.! Let's Be Heroes and the 83rd episode overall.
Official Synopsis
K.O. gets more than he bargained for when he gets a sidekick.[1]
Plot
TBA
Features
Characters
Music
Soundtrack
Trivia
Continuity
The last video K.O. recorded was Enid and Rad dancing from "T.K.O.'s House".
K.O. kept Garnet's Pow Card after she gave him one from "Crossover Nexus".
K.O. remembers that Red Action got him chips from "Back in Red Action".
K.O. shows resentment towards Chip Damage since "Final Exams".
Enid and Rad wore the same chefs outfits from "We're Captured" when preparing a cake.
The bodega continues to have the small delivery catering from "Special Delivery".
Enid pointed out about K.O.'s former immature behavior from previous events when he first joined the bodega from "Let's Be Heroes" and "Let's Be Friends".
Professor Venomous collaborates with the robot attacks since after "All in the Villainy", as shown with Jethro's organic new lips.[2]
Boxmore has a sign outside reading "Box it Venom" as the slogan since Lord Boxman and Professor Venomous are continuing their business.
Combo Breaker mentioned Joe Cuppa was "world famous" referring to when he made a comeback from "Presenting Joe Cuppa" and guest appearing from "Let's Watch the Pilot".
K.O. does not want to become Neil's sidekick after Neil's careless behavior from K.O.'s nightmare in "Let's Not Be Skeletons".
Cultural References
This episode includes several references to popular anime and manga:

Combo Breaker takes clear inspiration from Astro Boy, one of the most popular early manga written by Osamu Tezuka. He also happens to be voiced by Candi Milo, who played Astro Boy himself in the 2003 anime dub.
While Combo is introducing himself, K.O.'s reaction is to make the Excalibur Face expression, a visual motif taken from the manga and anime Soul Eater!, that became a meme in online fandoms.
Besides his general design, Combo's expressions also take cues from anime, seeing bubbles when looking longingly at K.O., or having his tears sparkle when he cries.
Videos
Gallery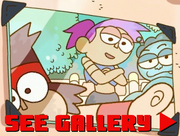 Transcript
View the episode's transcript here.
References List