"Second First Date" is the 31st episode of Season 1 of OK K.O.! Let's Be Heroes and the 31st episode overall.
Official Synopsis
Love is in the air and Cupid arrives to resolve romantic tension around the plaza.[1]
Plot
It's Valentine's Day and Enid, Radicles, and K.O. are decorating Gar's Bodega with Valentine's Day ornaments. When the pomegranate shoots explode in the middle, revealing Cupid. He claims that there to resolve a romantic tension that no one knew between Rad and Enid. Although Enid denies, with his flashback eye, he takes them back years ago. Young Enid is at the school picking up her manga that fell to the ground, a young Rad gives her the book and walks away, but arouses interest in Enid.
Elodie convinces Enid to ask Rad for a date, although she was reluctant at first. He accepts and they find themselves in the place where Enid trained. But Rad was too insecure to interact with Enid, and his friends told him to do detestable things instead of being himself. This leads Enid to storm off after lunching one of her fireball attacks towards him. This causes young Rad to fall for her, and to regret everything he did to her but brushes it off. At the end of the flashbacks, K.O. becomes super sad because of the sad ending. Cupid says he was right and they would have to make an end.
But not the way everyone thinks, they're kind of in a ring fighting to see who was the most chivalrous. Enid ends up revolting and falling from the ring towards the lava flow that was around. She was calm and ready to accept her death fate, but before that, she is saved by Rad with his telekinesis and pulls her back up to the ring and he apologized for being a jerk on their first date. She accepts his apologies and Cupid sees that now they are in a platonic friendship, soon after that returns to the sky. They go out and walk together, Enid punches his arm and he runs after her.
Features
Characters
Music
Soundtrack
Trivia
Production Notes
Continuity
Cultural References
Videos
Gallery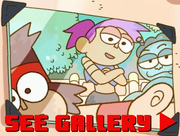 Transcript
View the episode's transcript here.
References List