OK K.O.! Let's Be Heroes contains a couple of cultural references.
OK K.O.! Let's Be Heroes Referenced in Other Media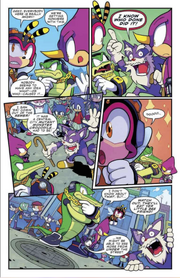 Villainous
Villainous is a Cartoon Network show that originates in Latin America. The show would have references of other Cartoon Network, Warner Bros., and Hanna Barbera characters.
The Lost Cases of Boxmore
The Lost Cases of Boxmore (translated from its native title: Los casos perdidos de Boxmore) is an episode from the Cartoon Network Latin America web series Villainous that aired on January 6, 2018 on YouTube. Black Hat reviews Lord Boxman in the episode. This episode's dialogue is in Latin American Spanish.
The episode does not have a direct correlation with the series' canon or timeline since events are not brought up into the show's main series. But some subtle hints suggests some connection with the shows' continuity as the episode uses scenes from the "Boxmore Infomercial" short, "Let's Be Friends", "Let's Be Heroes", and "Stop Attacking the Plaza". In a drawing comic Ian Jones-Quartey made thanking the Villainous series creator, it shows that the episode is a video watched by Lord Boxman criticizing Black Hat for judging how Lord Boxman runs his business. It suggested that Lord Boxman and Professor Venomous are working on the Boxman Jr. project hinting that it takes place after "Villains' Night Out" and "Villains' Night In" and before "Action News" when the project is complete.
The VVV
The VVV is an episode of Villainous' first season that aired on October 29, 2021 on HBO Max Latin America and on Halloween on the Cartoon Network Mexican feed. The characters that made a cameo in the episode are Mad Sam, Cosma, Mecha Maw, Vormulax, and Billiam Milliam.[7]
Let's Team Up Because We Aren't Bad Friends
Let's Team Up Because We Aren't Bad Friends is a crossover half-hour episode of Mighty Magiswords and OK K.O.! Let's Be Heroes[8] with only counting as a Mighty Magiswords episode. The episode aired on August 24, 2018 online and May 17, 2019 on TV. The episode is about "the Warriors fear that they've been ignoring their pals, so they team up with Witchy Simone and Noville for a BIG MISSION, only to discover that their friends aren't into it anymore." The episode served as the season 2 and series finale for Mighty Magiswords.
Radicles is the only prominent character that appears in the episode with K.O. and Mr. Gar being mentioned. Rad is designed and animated in the same flash animation style as the series. The only instance that the episode was referred in the series continuity was in the "Radical Rescue" where Rad had a picture of him and Witchy Simone.
Videos
References List