— Soft Canon —
This page contains content that is considered "soft canon" and has an arbitrary placement within the TV series.
"Rad Cries" is the seventh short of OK K.O.! Let's Be Heroes.
Official Synopsis
Everything Rad does, he does in an over the top amazing way, including getting emotional.[1]
Plot
K.O. asks Rad what it is like to be him. Rad tells K.O. it is a personal question that he would like to answer. Rad says he has alien beam-style powers, a physique of a god, and a handsome speaking voice. K.O. tells him that he is the strongest guy he has met. Rad says he has "batitude."
Then, K.O. asks Rad if it is ever ok to cry. Rad says no, but K.O. says that he saw Rad crying yesterday. Rad is shocked to hear that fact. Rad says that K.O.'s description of crying is good, refuting his statement that he never cries. K.O. shows his phone that Rad was crying in a video. Rad swallows K.O.'s phone. Enid wants to see the video. K.O. gets out his phone from Rad's stomach.
Rad takes the phone away from Enid and sees the video of the Skateboarding Dog. Rad holds in his tears with Enid and K.O. darting out. Radicles lets out a huge amount of tears. Rad explains that he wants to hang out with the dog. Just when Enid was about reason him, the Skateboarding Dog skateboards into the Bodega if anyone wants to chill and "bro out" with him. Rad takes his offer and hops onto the skateboard. They both leave above from the Bodega leaving Enid and K.O. confused.
Characters
Trivia
According to Chris Niosi, he was initially acquired to voice the "Skateboarding Dog" character in the short (with the intentions of an impression of the Homestar Runner character Larry Palaroncini) but was unable to do so as he wasn't a SAG-AFTRA member at the time.[2]
Videos
Gallery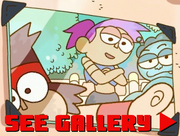 Transcript
View the episode's transcript here.
References List