Jurassic World: Dominion Dominates Fandom Wikis - The Loop
Play Sound
This article is about the short. You may be looking for the character.
— Soft Canon —
This page contains content that is considered "soft canon" and has an arbitrary placement within the TV series.
"Rad" is the third short of OK K.O.! Let's Be Heroes.
Official Synopsis
Rad shows off the ultimate power move![1]
Plot
K.O. introduces Rad and asks him about the situation. Rad places a can on the top shelf and tells K.O. that everything will be "super snazzy" if he powers up. K.O. begs Rad to power up which prompted Rad to tell him that K.O. will see a the biggest power up if they fight a giant robot. The gang heads outside and sees that Darrell approached in front of the Bodega. Darrell is contained within a giant robot version of himself.
Now K.O. hopes of Rad to show him a super cool power up move. Rad, without hesistant decides to show it to K.O. Rad feels the energy coursing through his body. However, as he was distracted, Darrell hovers over Rad to prepare his move. Darrell is left in confusion of where Rad is as well as K.O. and Enid. Darrell finds and picks up Enid and K.O and traps them. K.O. asks that Rad does not need to power up and tells him he is "beautiful" which led to Rad in shock. Then, Rad exerts his "power move" on Darrell which shoves Darrell away as Enid and K.O. are freed by him. Rad is embarassed that K.O. found out that his power move came from his blush. Rad tries to deconfirm that fact but K.O. called him "beautiful" again which made Rad blush again and then came the explosion.
Characters
Videos
Gallery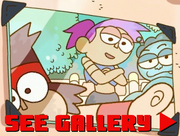 Transcript
View the episode's transcript here.
References List