Jurassic World: Dominion Dominates Fandom Wikis - The Loop
Play Sound
This article is about the short. You may be looking for the vehicle.
— Soft Canon —
This page contains content that is considered "soft canon" and has an arbitrary placement within the TV series.
"Rad's Van" is the eighth short of OK K.O.! Let's Be Heroes.
Official Synopsis
Rad shows off his rad new minivan and its rad features![1]
Plot
Radicles displays his van in the plaza's parking lot. He then regales K.O. with its impressive features such as a powerful Nitro v6 engine, tires with hubcaps, sunroof, seating, breeze, and artillery (claiming to be all Nitro). K.O. is impressed while Enid is bored. Rad even shows his merman hood ornament valued at a hundred grand. K.O. wants to learn the story of how Rad got it.
From Rad's story, Rad battled against an evil space wizard. After he destroyed the wizard, a celestial being awarded him with the van. Enid inspects that that "Rad's Van" used to say "Brad's Van". K.O., impressed with the story, begs Rad to allow him to touch the van. After Rad agrees to let him do so K.O. proceeds to accidentally break the hood ornament. At this point, Rad seemingly admits that the ornament was worth very little, to begin with, but upon receiving a verbal spar from Enid returns to behaving aggrieved. Enid laughs as Rad chases K.O. around the van.
Characters
Trivia
Videos
Gallery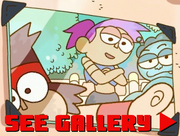 Transcript
View the episode's transcript here.
References List