"

I'm gonna stay right here at the bodega! And I'm gonna hit my one-million-box record while I'm at it!

"
—Radicles
"Rad's Alien Sickness" is the 35th episode of Season 2 of OK K.O.! Let's Be Heroes and the 87th episode overall.
Official Synopsis
When our heroes are infected with a virus, Rad stubbornly refuses to back down.[1]
Plot
K.O. and Enid are excited for their break time. They get Rad to enjoy his break, however he is preoccupied for achieving a milestone by stacking one million boxes. K.O., Rad, and Enid hears the alarm and goes outside to check out the Boxmore box. K.O. and Enid expects for Ernesto to be the one attacking. The Boxmore box opens and emits purple smoke making the Bodegamen confused. Then, the Bodegamen coughs and gets sick. Professor Venomous and Fink introduces the poison that Professor Venomous created.
Enid and K.O. goes home to recover while Rad reluctantly heads back to the Bodega to stack the millionth box. The next day, Enid and K.O. are healthy and ready to work. Enid slips on a trail of good and is annoyed that it's all over the store. Enid tells K.O. to clean the goo. K.O. follows the goo to the storage room with a room and sees that Rad is in a worse condition. Enid goes to the storage room after hearing K.O. screams. K.O. and Enid informs Rad that needs to rest but Rad refuses until he stacks the box. K.O. offers to stack the box for him, but Rad does not allow him. Rad is rendered powerless. Enid tells K.O. to clean the room and take Rad home.
K.O. decides to give Rad remedies to help him get healthy. He gives him chicken noodle soup with clear soda, wraps Rad around a blanket, offers orange juice, installs aromatherapy, offers antacids, leeches to suck Rad, and herbal tea. These remedies becomes ineffective as Rad continues to worsen. K.O. surrounds Rad with healing crystals but is ineffective as well. Enid is mad at K.O. for not taking Rad home. She decides to take him herself but she does not want to since he's very sick. K.O. and Enid quarantine him by stacking boxes around him. K.O. and Enid cleans up the mess.
K.O. and Enid hears the alarm again and sees that Professor Venomous launched another Boxmore box. They are excited to see Ernesto is the who is battling. Ernesto receives upgrades and proceeds to attack Enid and K.O. Rad wakes up to hear Enid and K.O. are in trouble. He struggles to get up. Ernesto chases around K.O. and Enid and Fink watches them from outside of Boxmore. Professor Venomous sees a scratch on his car.
Rad removes many boxes from the stack while Enid and K.O. gets pulverized by Ernesto. As Enid and K.O. are weakened, they see Rad out of the Bodega to help. Ernesto approaches to Rad and Rad defeats him by sneezing on him, sending a part of Ernesto flying to Boxmore. Professor Venomous polishes his car to remove the scratch but the explosion of Ernesto impacts him and Fink and destroys Professor Venomous' car. Later, Rad realizes he is the millionth box so he stacks himself onto the stack of boxes. He is proud of achieving his goal and then he wraps around in a cocoon to heal.
Features
Characters
Trivia
An indicator of Rad taking long to recover than Enid and K.O. was the color differences on their faces when they coughed after inhaling the fumes. Rad's face was blue while Enid's and K.O.'s faces were purple.
Production Notes
The episode's concept was thought of before "Boxman Crashes" and "All in the Villainy" until it was decided that the episode takes place after those episodes since it featured Professor Venomous and Fink as regular villains.[2]
Continuity
Enid and K.O. claims that they never get to see Ernesto fight and usually comes once a season despite the fact he fought from previous episodes. However, they either probably meant a specific Ernesto, as Ernesto responded that "he is not just regular Ernesto" and Ernestos are only revealed to have numbers part of their names or they meant that the fact that he is battling alone instead of with other Boxmore bots as "OK Dendy! Let's Be K.O.!" had this and it was from Season 1.

Another claim that can be counteracted was when in "Sidekick Scouts", Ernesto says that he is trying to raise his credibility and to be impressive, which could support the fact the Bodegamen overlooked his presence in battle.

Ernesto was given an upgrade from Professor Venomous after he was not given from "Sidekick Scouts".
The way K.O. and Enid clasp their hands and heads together is similar to how K.O. did it with Rad in "Soda Genie".
Videos
Gallery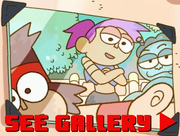 Transcript
View the episode's transcript here.
References List