Puck Reverie is a minor character shown in OK K.O.! Let's Be Heroes, making cameos in many episodes. Puck Reverie is the son of an angel and a lady wolf-man. He is Enid's cousin on her dad's side.[1]
Physical Appearance
Puck Reverie has a brown, slender body with cat ears sticking out from his black, long, wavy hair. He has white angel wings on his back and a yellow halo hovering above his head. He wears a bandage around his waist, holding his orange pants. He has light yellow eyes and a black, cat nose.
Personality
He's angry with his angel dad, and tries to emphasize his wolf-man qualities by having a reputation as a deep, dark, misunderstood guy at his new school. But nobody buys it and he's very popular, which bothers him.
Abilities and Powers
Flight
Siren song
Soulful howl
Appearances
Trivia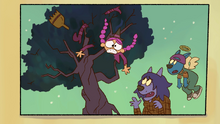 He uses his parents' divorce as sadness fuel to write harp music.
He was designed by Geneva Hodgson.[2]
In "Parents Day", in one of the album photos of Enid, Puck Reverie appears as a child. The lineart ended up being mistaken for a cap and the character got colored differently.[3]
Gallery
References List