Jurassic World: Dominion Dominates Fandom Wikis - The Loop
Play Sound
"Presenting Joe Cuppa" is the 13th episode of Season 1 of OK K.O.! Let's Be Heroes and the 13th episode overall.
Official Synopsis
K.O. tries to help his favorite comedian, Joe Cuppa.[1]
Plot
K.O., Rad, and Enid sat in a "comedy show" at the Bodega. Rad and Enid tell K.O. what a joke is and what's funny for them. They see Joe Cuppa on stage telling a lot of coffee jokes. K.O. and Rad think this is very funny, but Enid only thinks physical comedy is funny. When the show ends K.O. and Rad go up to Joe and ask if he can sign their heads. He does but spells their names wrong. Then he says that he has to go on his world tour.
He ends up coming back in a disguise. He tries to steal some lighting nachos but he kept making coffee jokes. K.O. and Rad didn't know it was Joe Cuppa until Enid took off his disguise. K.O. asked why he wasn't on his world tour and he said that he hasn't gone on a world tour in a very long time. He also said that he sleeps in the basement of a gas station inside a sewer sleeping with rats.
K.O. gets sad by this so he tries to help him feel better and get more fame. K.O. gives him a job at the store but he ends up making more coffee jokes and making the customers leave the store. He realizes that the job isn't for him but just as he was about to quit working Lord Boxman sent Shannon to attack the plaza. K.O. thinks this is an opportunity to show Joe Cuppa what he can do.
He tries to fight but he fails until he makes a coffee joke which makes a stream of coffee come out of his head punching Shannon. Shannon gets punched into the coffee shop and then runs away. Joe Cuppa thanks them for showing him what he could do and asks K.O. sign to his head. Then the Director drives up and tells Joe Cuppa that he can be a star. Joe hops into the car and drives away, a trail of rats following. Rad then falls into a trash can, rolls away, almost falls off the cliff but gets picked up by a pterodactyl and gets put on to an airplane then finally falls back to where he was before. Enid and K.O. laugh at what they just witnessed.
Features
Characters
Music
Soundtrack
Trivia
This is the first episode where Shannon battles without her siblings.
Continuity
Errors
In the end credits, Ashly Burch's name is misspelled as Ashley Burch.
Gallery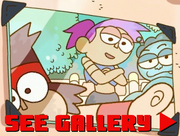 Transcript
View the episode's transcript here.
References List