— Soft Canon —
This page contains content that is considered "soft canon" and has an arbitrary placement within the TV series.
"Power-Up!!!" is the tenth short of OK K.O.! Let's Be Heroes.
Official Synopsis
When Rad accidentally swallows a power up that makes him do things three times, things get crazy, crazy, crazy.[1]
Plot
K.O. and Rad unpacks the boxes from the truck while Enid reads a book. Rad complains that it is taking forever. Enid and Rad fights that Rad would have finished if he did not whine and Enid was simply sitting. Enid protests the claim by stating she is a supervisor. Rad spots a power-up bean and kicks K.O.'s box to power up. K.O. catches the power-up box. Rad does a triple finger blast to carry three boxes at a time to efficiently unpack. K.O. and Enid are impressed.
Rad burps three times simultaneously and kicks the vending machine to get three sodas. The soda can squirts out three streams and went into Rad's eyes. Rad sneezes three times and then groans in pain. At home, Rad prepares to brush his teeth by squeezing three streams of toothpaste getting into his eye. When Rad snores, he makes three snot bubbles and it lifts him up. The snot bubbles pop when they reach the roof and pops. Snot fell onto Rad.
The next morning, Rad hides from Enid and K.O. because everything is not fine for him. When Rad places a Mean Bean can on the shelf, it makes two more cans and the shelf collapses on him. Rad smashes through the shelf in frustration of doing everything in threes. He punches his stomach to regurgitate that power-up beans. Each of the Bodegamen swallowed one power-up bean. Both Enid and K.O. blast away and Rad laughs three times.
Characters
Trivia
The short's motif is about Rad doing stuff three times.
Two scenes were censored out in the UK version.

The part where Rad snores while breathing out a giant booger, popping out with Rad covered it.
The part where Rad regurgitates the power beans and K.O., Enid, and Rad swallowing the beans.
Videos
Gallery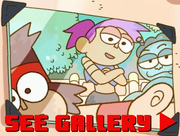 Transcript
View the episode's transcript here.
References List