Potato is a character in OK K.O.! Let's Be Heroes. She made her first appearance in "Let's Be Heroes."
Physical Appearance
Potato is the same height as Dendy. She is a cream-white anthropomorphic rabbit with a buck tooth and a small nose. Her outfit consists of a light turquoise t-shirt and orange shorts.
Personality
Endlessly optimistic, Potato hops around Lakewood Plaza Turbo fancy and carefree! She is also overly polite to the point of being a doormat. She also wishes she was human and goes to a human-based subculture where people pretend and act like humans.
Abilities and Powers
Mega-hop (evasive maneuver)
Mechanical armor: In the episode Let's Fight to the end while fighting Big Bull Demon Potato uses a mechanized suit that resembles her human costume from the episode We've Got Fleas.
Episode Appearances
Trivia
She sometimes daydreams about being human and in "We've Got Fleas" it is revealed that she is a member of the unnamed Human-based subculture. She makes an appearance in her human costume.
Potato lives in a tree behind the plaza with her family, who are white-collar business types.
Potato started showing up at Gar's as a latchkey kid.
In "KO's Video Channel", she posts the comment "this is just like me when i dance XD" on the video K.O. uploads of Rad and Enid.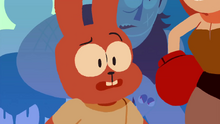 Potato appears in the short "Enid's Bad Day" where Enid refers to her as "sir". This was because Enid was holding under pressure with dealing the customers.

However, in the European and Brazilian Portuguese dubs, Potato is referred to by male pronouns and is voiced by a male actor.
In the Italian and Swedish dubs, Potato is referred to by male pronouns.
Gallery
References List