Jurassic World: Dominion Dominates Fandom Wikis - The Loop
Play Sound
"Plaza Shorts" is the 8th episode of Season 1 of OK K.O.! Let's Be Heroes and the 8th episode overall.
Official Synopsis
Short version:
"K.O.'s Inner Monologue": KO's inner monologue details his journey to being a hero. (1044-003-A)
"Action News": Dynamite Watkins reports on a day at Gar's. (1044-003-B)
"Life of Darrell": Lord Boxman explains where all the robots come from. (1044-003-C)
"Where in the World is Mr. Gar?": KO, Rad, and Enid try to figure out Mr. Gar's adventure. (1044-003-D)
"Enid vs. Rad": Enid and Rad switch jobs. (1044-003-E)[1]
Longer version:
Plot
"KO's Inner Monologue"
K.O. examines the consistency of water from the mop. K.O. mops up the floor and after he finishes it, he reads a book on how to become a hero. Enid walks to K.O. while eating nachos to compliment how the floor is clean, despite her making a mess. K.O. believes that his job is paying off and mops again. A shadow surface on K.O. and K.O. crashes through the can display, which was the figure behind him. When K.O. continues with his inner monologue, Rad is sleeping in a box and wakes up.
K.O. picks up the cans and stacks them back. However, the Can Wizard pops out of the can display. K.O. confuses the Can Wizard with the Great Sage from his book which makes him excited to get to talk to "him." The Can Wizard approaches K.O. but slips on a can. When he says he needs "help", it caught K.O.'s attention and K.O. prepares to save him. The Can Wizard rolls into K.O. and both of them crash into a pile of TNT.
The Bodega explodes and K.O. and the Can Wizard leaves. K.O., in his mind, believes that he has saved the Great Sage. The Can Wizard is furious K.O. and whacks him with a cane. K.O. misunderstood him and decides to seek more opportunities to grow as a hero. The Can Wizard leaves because he found to be "another one of those younger inner monologuers."
"Action News"
Dynamite Watkins reports a breaking news segment on the clash between Ted Viking and Big Bull Demon. They both fight as the crowd watches. However, Dynamite Watkins reports a local news segment from Gar's Hero Supply & Bodega and interviews Enid, Rad, and K.O.
First, Rad retells the story that a thief sneaked into the Bodega to sell a giant bag of money from the shelf. When the thief attempts to sneak, he bumps into Rad. Rad proceeds to punch him. Dynamite Watkins was amused by his retelling until Enid decides to tell her perspective. Enid was hiding behind the shelves when she noticed the thief. She set up a ninja shadow trap which traps the thief and sees Rad. Rad punched the thief ending Enid's story. Dynamite Watkins was also impressed by her story. Enid and Rad briefly argue over who should take credit.
K.O. takes the microphone from Enid to tell Dynamite Watkins that he caught the thief. K.O. was the one who tied him up. Dynamite Watkins, Enid, Rad fell on the ground from being shocked. Dynamite Watkins stands up and wonders how the Bodega got destroyed. Enid tells her that it was a contest of who can juggle the most bombs. The trio held the bombs and exploded. Dynamite Watkins signs off the news report and transitions to Nigel Storms for the weather. Nigel Storms reports that "everything is on fire!"
"The Life of Darrell"
Ernesto sets up the camera to record Lord Boxman. Lord Boxman welcomes the viewers to show where the robots of Boxmore were produced. A Darrell pops out from a machine and Lord Boxman commands Darrell to destroy the Bodegamen. Darrell goes inside the Bodegamen to be defeated immediately and combusted. A second Darrell is produced and Lord Boxman gets tired of Darrell interrupting him.
Lord Boxman gets a box and puts it on Darrell to give him an upgrade. Darrell goes outside of Boxmore and the Bodegamen spots him and attacks Darrell. They defeated Darrell and he combusted. A third Darrell is produced and the Bodegamen taunts Lord Boxman. Lord Boxman decides to skip to the climax of his "memoir" by pulling out a giant control. Lord Boxman pushes the button and instead of a regular Darrell, it's a giant version. The Bodegamen fight the giant Darrell and they succeed. The giant Darrell produces a bigger explosion making the Bodegamen amused.
Lord Boxman is angry and throws multiple controls on the ground. They all had buttons pressed and more Darrells approached to Lord Boxman. Another giant Darrell pops out signaling the end of the video recording.
"Where In The World Is Mr. Gar"
Rad calls K.O. to run and he throws a can at K.O. to catch. However, the can goes through K.O.'s hair and smashes through one of Mr. Gar's display stands. Enid calls Mr. Gar and Mr. Gar tells them he is on a top-secret mission. K.O. apologizes to Mr. Gar for wrecking his display. Mr. Gar says that he has multiple displays on the back and can be replaced. He tells them to clean up the mess. The Bodegamen ponders where Mr. Gar is and what missions he does.
Enid calls Mr. Gar again but Mr. Gar rages at them. K.O. uses his charm to ask him what is his mission. Mr. Gar informs them to not call him unless it is an emergency. Enid calls Mr. Gar that the Bodega ran out of ice cream and Mr. Gar drops a big package of ice cream. Mr. Gar replaces the broken roof with a new one. Mr. Gar is constantly furious at the Bodegamen calling him.
Mr. Gar had enough of the Bodegamen and steps out from his mission. K.O. notices that Mr. Gar was playing Duck Stack!, which was his mission. Mr. Gar is mad that he lost his last life from the game. The Bodegamen is amazed that he plays Duck Stack! Mr. Gar yells at them to "get back to work!"
"Enid vs. Rad"
K.O. plays Duck Stack! while Enid and Rad bicker over Rad dropping a package. Rad claims that he could do Enid's job better than her where Enid claims that she could do Rad's job better than him. They both set a bet and switch jobs.
Rad sits behind the counter and naps. A customer approaches him about using a coupon on a different production. Rad quickly dismisses the customer until another customer asks him about getting different bananas. Rad sees another customer but horribly disfigured and tosses him. Another customer wants to buy his groceries in pennies. Rad lifts the customer and turns around to see more customers. Enid approaches to the back and prepares to perform Rad's job. Enid gets tired of lifting and placing heavy boxes. Enid sits before she stacks again. When she pushes a button behind her, she is in shock that there are more loads of packages.
Rad enters the break room with Enid and K.O. Enid and Rad both are tired of each other's jobs and realized that their jobs are equally as hard. They both make amends that they are better with their own jobs. K.O. wins the Duck Stack! game.
Features
Characters
Every Short
"KO's Inner Monologue"
"Action News"
"The Life of Darrell"
"Where In The World Is Mr. Gar"
"Enid vs. Rad"
Trivia
While "Plaza Shorts" was not formally included in the planned story order list, HBO Max lists the episode between "I Am Dendy" and "Sibling Rivalry".
This episode was previously scheduled to air alongside "Plazalympics" on October 20, 2017. Instead, it was replaced with a repeat of "Glory Days".
On November 28, 2017, all the shorts that compose the episode were made available individually on the Cartoon Network app. [7]

"K.O.'s Inner Monologue" was released on the Cartoon Network app earlier than the rest of the shorts on November 22, 2017.[8]
On February 26, 2018, the shorts were combined into one episode in the Cartoon Network app.

The "Life of Darrell" segment was released on November 19, 2017, on the Cartoon Network Africa YouTube channel.[9]

The "Where In the World Is Mr. Gar" segment was released on November 27, 2017, on the Cartoon Network Africa YouTube channel.[10]

The "Where In The World Is Mr. Gar" segment was shown as a sneak peak of the episode on February 19, 2018, the day "Let's Watch the Pilot" and "Mystery Science Fair 201X" aired on TV.[11]
Production Notes
This is a compilation of five Plaza Shorts, made to provide basic background information about the series, supposed to be shown before the series premiered.[12]
Stephanie Nadolny voices K.O. in this episode, as it was produced before Courtenay Taylor took over.
When the shorts streamed individually, its copyright date was 2017. When the shorts aired together as a single episode, its copyright date was 2018, likely been composed before or after "You're in Control" due to fully complete the first season to exactly 52 episodes. The end credits on the single episode version credited few crew members of their updated role such as Toby being co-executive producer, when he would have been credited as supervising director at the time before the production was revised.
The "Action News" segment was referred as "Action News Short" to distinguish from the an episode with the same name.
This episode was called "Plaza Shorts 1" initially because there would have been a "Plaza Shorts 2" in Season 1. It did not became produced which led to the episode dropping the "1" in the name.[13]
Cultural References
"Where in the World is Mr. Gar?" short title is a reference to the 90s PBS game show Where in the World is Carmen Sandiego?.
Errors
The voice cast only credits the characters that appeared in the "KO's Inner Monologue" short.
Videos
Gallery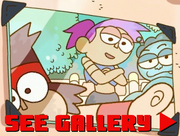 Transcript
View the episode's transcript here.
References List