Jurassic World: Dominion Dominates Fandom Wikis - The Loop
Play Sound
"

I'm da boss, and I know what I'm wishing for -- a birthday alone with Rad and Enid.

"
—K.O.
"Plaza Alone" is the 25th episode of Season 2 of OK K.O.! Let's Be Heroes and the 77th episode overall.
Official Synopsis
It's K.O.'s birthday, and Rad and Enid want to make sure everything goes perfectly.[1]
Plot
K.O. wakes up the morning of his birthday. Carol dresses him up for the special event and she made him the birthday pancake stack. K.O. gently pushes Carol aside to make his birthday wish private and blows out the candle and eats the pancakes. His birthday wish to spend the birthday alone with Enid and Rad.
K.O. comes into Rad's place where Enid and Rad watches a marathon of sad documentaries for the day. Enid and Rad forgot K.O.'s birthday and improvises by saving him a spot to watch The Lonely Hero documentary. In the documentary, the Loneliest Hero ventures alone and isolation causes her to hallucinate. K.O. wants to spend time at the plaza even though it is Enid's and Rad's day off.
K.O. wants a burrito from Burrito Beardo's, however Beardo is not present at his truck. The Bodegamen stops in the iFrame Outlet store, and Brandon and A Real Magic Skeleton are not present as well. The Bodegamen checks the Fitness Dojo and Logic Cuts with Carol and Mr. Logic not present. Mr. Gar is not in his office. Enid and Rad convinces K.O. about a silver lining of having the plaza to themselves. The Bodegamen gathers ingredients from Burrito Beardo's to create a food portrait of Mr. Gar in the iFrame Outlet. Then, they play around in the Fitness Dojo. At the Neo Rama Game Center, the Bodegamen plays a dance arcade game. At Logic Cuts, they mess around with piles of hair.
Outside, K.O. finds a party hat at the parking lot and wears it after hearing a party noise maker. At the Bodega, K.O., Enid, and Rad eat snacks. They hear the noise maker again and believes it comes from the break room. The door of the break room closes by itself and locks the Bodegamen. Enid and Rad tries to make the door open but doesn't budge. K.O. is reminded about his wish and believes it is his fault that his wish came true. Enid and Rad goes insane of questioning reality about the realization of K.O.'s wish. The trio enters a trance of hallucinations just like The Lonely Hero documentary. The hallucinations becomes more absurd and surreal since K.O. "ate" a hot dog version of Rad.
K.O. enters back reality when he sees everyone at the plaza throwing a surprise party. Carol offers a large cake stack. Enid and Rad are confused as to why everyone was hiding from them. Mr. Gar tells them they were watching the trio from the camera. Enid and Rad are embarrassed by their actions. Mr. Gar tells Enid and Rad that they are not capable of holding secrets for K.O., and both of them does admit he is right. K.O. enjoys his birthday with everyone.
Features
Characters
Music
Soundtrack
Trivia
Continuity
Cultural References
Gallery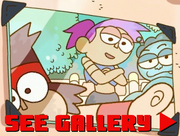 Transcript
View the episode's transcript here.
References List