Perfect K.O., or simply P.K.O.[1], is the result of K.O. and T.K.O. sharing control over K.O.'s body. They do this via a device created inside of K.O.'s mind, based off of a movie he watched, the device connects both K.O. and T.K.O. and synchronize their movements into one.
This form can supposedly be activated and deactivated at will. He often switches between dialogue between K.O. and T.K.O. He made his debut in "T.K.O.'s House", whilst his two components were fighting Shadowy Figure. He is not to be confused with Combined K.O., who was revealed earlier in the same episode.
Physical Appearance
P.K.O.'s appearance has several similarities to his normal self but with more flowy hair. As P.K.O., he wears cyan headband and wristbands, and his eyes are now a golden yellow. His teeth may change whether K.O. will speak, he will have his normal teeth, or if T.K.O., he will have sharp teeth. He also have a snaggletooth when his mouth is closed and dark circles from T.K.O. due to their fusion. Unlike both K.O. and T.K.O., his energy is yellow. His general structure changes from that of K.O. and T.K.O. very frequently.
Abilities and Powers
P.K.O. possesses all of the powers that his components have, though the color of his energy is yellow, instead of purple or blue. He is capable of keeping up with Shadowy Figure, managing to actually land a hit on him, which K.O. could barely do. In "Dark Plaza", P.K.O. is able to use the energy from his components to power Plazamo as a makeshift battery for a defense system.
Personality
P.K.O.'s personality is the fusion of K.O. and T.K.O.'s personality. So he is a bit rude like T.K.O., but he is also very energetic like K.O.
Episode Appearances
Trivia
P.K.O. has similarities to Goku's Super Saiyan Blue transformation and even Gotenks, the fusion of Goten and Trunks from the Dragon Ball franchise.

It also has similarities to K.O.'s power up in the OK K.O.! Lakewood Plaza Turbo mobile game, only that version was a more obvious homage to Super Saiyan Blue than P.K.O. is.
He also draws several similarities to most Fusion Gems fusions from "Steven Universe".
K.O. refers to the device saying "I saw this device in a movie once." It is possible that Pacific Rim was the movie he watched.[2]

Similar to how K.O.'s name is a reference to the phrase "Knock Out" and T.K.O.'s name is a reference to the phrase "Technical Knock Out", P.K.O.'s name could be a video game reference to the phrase "Perfect Knock Out", in which it is when a player defeats their opponent without taking a single hit.
Gallery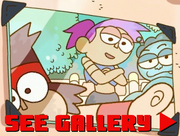 References List