Jurassic World: Dominion Dominates Fandom Wikis - The Loop
Play Sound
OK K.O.! Let's Be Heroes is an American animated series created by Ian Jones-Quartey for Cartoon Network. It is based on the original pilot "Lakewood Plaza Turbo", originally released May 21, 2013 for Cartoon Network's 2013 Summer Shorts project. The series was originally thought be to not picked up due to its lack of information over the past three years since the pilot's debut, aside from some slight hints and sketches of the cartoon. It turns out that the show was picked up earlier and Ian Jones-Quartey needed time to develop the series before it was formally greenlit by Cartoon Network.
On February 4, 2016, a mobile game for Android and iOS was created and the web series had premiered on Cartoon Network's YouTube channel[2] and the CN App.[3]
In 2017, nearly 4 years after the original pilot was released, the show was greenlit[4] and first aired on August 1, 2017.[1]
On December 2017, the second season was confirmed to be released.[5]
On June 2019, the third season was renewed. On August 6, 2019, in an interview with Den of Geek!, Ian Jones-Quartey has stated that season 3 is the final season and will be airing the series finale in 2019.[6] It was further revealed that Cartoon Network did not renew the show after Season 3 and it was not Ian's choice to end the show, but gave the show crew an opportunity to make a planned ending.[7]
On September 6, 2019, the series concluded with an hour event with the final three episodes: "Dendy's Video Channel", "Let's Fight to the End", and "Thank You for Watching the Show".
Origin
While working as a storyboard artist on Steven Universe, Ian came up with an idea for a pitch called "Infinite Guy Generator", where a kid would summon different "guys" every episode to fight the villain's evil guys. When creating the pilot, Ian created a world based on that original idea.
Later, while working as a co-executive producer still on Steven Universe, he used that same idea for a guys generator, that appeared in one episode, which had good reception, coming back later in the second episode of that show.
While developing the OK K.O. mobile game and series, Ian eventually expanded the concept of "guys" to include "gals" and "pals" in this universe. Ian even considered renaming the show "G.U.Y.S. G.A.L.S. and P.A.L.S", but thought it was too long for a title. [8]
While the show was in development in 2015,[9] it was under a different name, "Mini Maulers". Dendy was originally an elf before changed into a kappa. It was later changed due to a Cartoon Network show existing at the time with the "MM" initials, likely referring to Mighty Magiswords.[10]
Premise
OK K.O.! Let's Be Heroes is set in the year 201X. A boy named K.O. aims to become the greatest hero as he works at Gar's Bodega, a hero supply shop located in Lakewood Plaza Turbo owned by Mr. Gar, a serious, dedicated manager. Alongside K.O. are his best friends and co-workers, Enid, a relaxed responsible ninja and Radicles, a narcissistic alien slacker. K.O. takes on adventures with his best friend and classmate Dendy and battles for the plaza against Lord Boxman's robots.
Voice Cast
International Releases
Country
Title
Premiere
Canada
OK K.O.! Let's Be Heroes
August 1, 2017
Latin America/Brazil
OK K.O.! Seamos Héroes (LA)


(OK K.O.! Let's Be Heroes)
OK K.O.! Vamos ser Heróis (BR)
(OK K.O.! Let's Be Heroes)

September 18, 2017
United Kingdom
OK K.O! Let's Be Heroes
October 9, 2017
Germany
OK K.O.! Neue Helden Braucht Die Welt


(OK K.O.! New Heroes in Need of the World)

November 6, 2017
Central and Eastern Europe (CEE)
KO OK! Prostě koukej (Czech Republic)


(KO OK! Just Watch)
OK K.O.! Legyünk Hõsök! (Hungary)
(OK K.O.! Let's Be Heroes!)
OK, K.O.! Să Fim Eroi! (Romania)
(OK, K.O.! Let's Be Heroes!)

November 6, 2017
Northern Europe (Nordic)
OK K.O. Vi Er Helte! (Denmark)


(OK K.O. We Are Heroes!)
OK K.O.! La Oss Redde Verden (Norway)
(OK K.O.! Let's Save the World)
OK K.O.! Nu Blir Vi Hjältar (Sweden)
(OK K.O.! Now We Are Heroes)

November 6, 2017
Portugal
OK K.O.! Let's Be Heroes
November 10, 2017
Africa
OK K.O.! Let's Be Heroes
November 18, 2017
Poland
OK K.O.! Po prostu walcz


(OK K.O.! Just Fight On)

November 2017
Russia and Southeast Europe
Окей, Кей О! Будем героями! (Russia)


(OK, K O! Let's Be Heroes!)
ОК, Кей О! Да бъдем герои (Bulgaria)
(OK, K O! Let's Be Heroes!)

November 2017[16]
The Netherlands
OK K.O! Jij Wordt Een Held


(OK K.O.! You Will Be a Hero)

December 2017
Korea
OK K.O! 내일은 히어로


(OK K.O.! Hero Tomorrow)

January 1, 2018
Australia
OK K.O! Let's Be Heroes
January 6, 2018
Phillippines
OK K.O! Let's Be Heroes
January 6, 2018
South East Asia
OK K.O! Let's Be Heroes
January 20, 2018
Spain
OK K.O! Let's Be Heroes
February 5, 2018
Turkey
OK K.O! Kahraman Olalım''

(OK K.O.! Be a Hero)

February 5, 2018
Japan

OK K.O.! めざせヒーロー


(OK K.O.! Aim to be the Hero)

July 1, 2018
Cancellation
There had been rumors and speculations that OK K.O.! Let's Be Heroes was canceled by ratings, reaching to a broader audience, or among other reasons, however, that was not the case.[24] On February 17, 2021, in an interview with the Cartoon Crash Course podcast with Nico Colaleo, Ian Jones-Quartey explained that the show was originally supposed to be one of the first shows to be a streaming exclusive from a streaming service AT&T and WarnerMedia planned to launch earlier, which is now known as HBO Max. It would have been an HBO Max original from the start to rely on streaming views instead of traditional T.V. ratings. However, the anti-trust regulation got the AT&T merger, therefore HBO Max, heavily delayed. This show got affected by the former merger's delay which caused the show's third season to be the last season and to be reduced from forty episodes to twenty episodes due to not increasing the budget. The show crew was expecting the third season to have forty episodes before they were notified from the network on Spring 2018. Other shows had been affected by the process as well.[25] Although, this show was one of the first to stream episodes on the Cartoon Network app before airing episodes on T.V.
One early indicator that the show was meant to be a Max original is that the show is accredited "A Cartoon Network Studios Production" as the text appears at the end of the episodes. All other Max originals that are produced from Cartoon Network Studios (i.e. Summer Camp Island, Infinity Train, Tig n' Seek, The Fungies) are also accredited with the same text.
Ian Jones-Quartey stated that all of the story arc plots have been placed into the episodes as they originally planned it as they wanted "way more stand-alone side-character development stories, fun one-off episodes, ridiculous flights of fancy, crossovers, and flashbacks".[26] It was revealed that there were more episodes planned out if the show continued long.
Scrapped Comic Book Series
On May 3, 2021, a Twitter user asked Ian Jones-Quartey on Twitter if there was a possibility of a comic book series. He answered that at one point, he really wanted to make one with OniPress or IDW. The idea was that every issue would have untold short stories starring the side characters of the main show in a format that is similar to shonen magna magazines. It would have featured different logos and art styles for every hero with continuing stories that changes every month. For example, a Hue Troop action cover story and a Potato & Colewort gag strip as a backup. K.O. would always be on the cover. However, the ideas for a comic book series were scrapped because Cartoon Network were not invested.[27]
Potential Anime Spinoff Limited Series
On May 16, 2021, Ian Jones-Quartey revealed that there were a couple of ideas for a spinoff series. One in particular he wanted to do was an anime spinoff starring Red Action and the Hue Troop. He posted a poster for the limited spin-off series. It would have been directed by Mira Ong Chua. They were close in the making of the spinoff series.[28] The illustration for the poster was done by Christine Liu.[29]
On June 14, 2022, a user asked Ian for an update of the Red Action anime spinoff in time for the show's fifth anniversary. Ian responded to the user saying that he hesistated on posting more Red Action anime content because he believes that creating a thread on a pitch that did not occur "is like admitting defeat." He wishes that it could get picked up some way in the future. Hours later, he is confident on the idea, claiming that "it's the kind of show that would be ahead of it's time." He expresses that there is big demand for the show and collaborating with Mira Ong Chua made it special.[30]
Possible Artbook
On December 17, 2020, a Twitter user asked Ian Jones-Quartey on Twitter if there is a possibility that an artbook could be made. Ian responded that there is sufficient material that can be added for an artbook, however, he stated that there needs to be a publisher, an author, and demand for the artbook to be made.[31]
Trivia
OK K.O.! Let's Be Heroes is inspired by many anime and manga tropes and styles as well as video game references. One example is that whenever a scene freezes in some episodes, it shifts to a painterly/pastel quality for a second, which is known as a "dezaki" named after anime director and screenwriter Osamu Dezaki. The technique is sometimes referred as "postcard memories".[32]
One of the most well-known qualities about this cartoon is its protagonist, K.O., who is voiced by Stephanie Nadolny; an actor better known for her role as Kid/Preteen Goku, and Kid/Preteen Gohan from the Dragon Ball (1986-1989), Dragon Ball Z (1989-1996) and Dragon Ball GT (1996-1997) TV series.

In the pilot, she even references the anime with her new character's traits. Such as:

Being really enthusiastic, kindhearted, and wholeheartedly righteous.
Always wanting to pick a fight to test his powers.
Screams at an incremental rate as he charges up an attack.

OK K.O.! Let's Be Heroes is a storyboard-driven show, meaning a team of storyboard artists (usually two) is given an outline by the story writers of which they write all of the dialogue and storyboard the episode.

According to Ian Jones-Quartey, it takes the storyboard artists to draw and write for 5 weeks and the revisions department to add details and extra animation for 3 weeks after. [33]
In an interview with the Talking Simpsons, Ian discussed that the show is drawn in pencil as opposed to ink on paper. The animators pencil each frame on paper using a light table and then color them digitally on a layer beneath the transparent linework.[34]
Storyboards are made with ToonBoom's Storyboard Pro software.
The show has an overarching story, meaning that the plot spans from the beginning of the show to the end of the show.
The show has a few references to another Cartoon Network show, Steven Universe.
Unlike other Cartoon Network programs, the show lists the production code assigned to an episode within the episode's title cards. Also, the beginning credits does not appear immediately after the theme song.
Toby Jones stated that sometimes when the show crew is tweaking individual frames in the editing phase, they draw a tiny smiley face on them.[35]
Often times in the show, characters would say "videos game" instead of "video games" and "sorey" instead of "sorry".

Ian stated it was a joke from Toby Jones' pilot AJ's Infinite Summer and because it reminded them of early Canadian anime dubs.[36]

It was revealed that the Lord Boxman and Professor Venomous couple was tough to be shown onscreen but the Enid and Red Action couple was even tougher.[37]
Gallery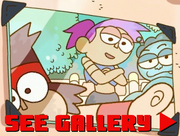 References List