Jurassic World: Dominion Dominates Fandom Wikis - The Loop
Play Sound
"

And with a wave of my fingers, I shall create an alternate universe where in your respective roles are reversed.

"
—Warlock
"OK A.U.!" is the 38th episode of Season 2 of OK K.O.! Let's Be Heroes and the 90th episode overall.
Official Synopsis
An evil warlock takes our heroes to a strange alternate universe.[1]
Plot
Mr. Gar informs the Bodegamen that an inspector from the county is coming the day after and expects the Bodega to be clean. Mr. Gar hands them a long list of tasks to do. K.O., Rad, and Enid are frustrated that the Boxmore robots stop by to distract their jobs. Darrell, Shannon, and Raymond are enraged that they won't see their choreography they planned. Both sides wish that they would trade places to see who has it the hardest.
Suddenly, the Warlock appears to "create" an alternative universe where K.O., Rad, and Enid are the Boxmore bots and Darrell, Raymond, and Shannon are the Bodegamen. Everyone is not impressed by the Warlock intruding their conversation. In the alternate universe, K-0, R.A.D.I.C.L.E.S., EN1D wake ups in Boxmore and R.A.D.I.C.L.E.S. accidentally steps on EN1D. They both bicker and K-0 tries to mediate the fight before Lord Boxman comes in. Lord Boxman informs them that they have a grueling day of tasks to do because Boxmore is being inspected. K-0 cleans the toxic vat and his arm disintegrates due to the acid. Lord Boxman fixes him up with rebooting him.
EN1D takes inventory of the entire factory by scanning them. She plays around with R.A.D.I.C.L.E.S. who was doing his task. Lord Boxman orders EN1D to stay on task, then he reboots her. Lord Boxman gets angry that R.A.D.I.C.L.E.S. puts all of the box stuff moved into crates and all crates stuff moved into boxes in reversal order. R.A.D.I.C.E.S. gets rebooted. Lord Boxman reboots all three of them again until they are exhausted. The three of them quickly takes an oil break but Lord Boxman catches them slacking off.
Lord Boxman pulls an ultimatum by giving them firmware upgrades. Lord Boxman tests them out by making them attack the plaza. At the Bodega, Mr. Gar is furious at the A.U. Bodegamen for slacking off, except for Darrell. Shannon did not set out the gloop traps because she finds it disgusting. Raymond and Shannon convinces Mr. Gar that they have to depart early for practice and leaves Darrell to clean up everything, making Darrell furious. Darrell, Shannon, and Raymond are upset that they have to fight K-0, EN1D, and R.A.D.I.C.L.E.S. They stop fighting because the A.U. Bodegamen has to complete the tasks and the A.U. Boxmore robots wants to continue fighting.
The Warlock believes that everyone learns how it feels when both positions are equally hard to manage and decides to switch back to their normal selves. Everyone is confused by his statements and are offended by the decision to switch back. All of them makes the Warlock depart from the alternate universe. The Warlock goes through multiple alternate universes, especially the one where the characters are actors. The Warlock enters the universe where the Bodegamen and the Boxmore robots are back to their original selves, however, he encounters Lord Gar-Man and Mr. Box-Gar who fights each to finish the task. The Warlock departs and Lord Gar-Man and Mr. Box-Gar ends in a draw.
Features
Characters
Trivia
Production Notes
Continuity
Cultural References
Videos
Gallery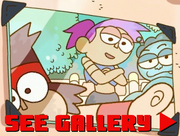 Transcript
View the episode's transcript here.
References List