Nick Army is a minor character in the OK K.O.! series. He's a regular at Lakewood Plaza, where he shops for weapons and explosives. His first appearance was in the "Lakewood Plaza Turbo" pilot.
Physical Appearance
Nick Army has a very stereotypical appearance to that of an action hero. He wears a short plain white t-shirt with torn sleeves, thin black bracelets, a camo green vest and an ammo sash. His cargo pants seem to be tucked in his knee high leather boots.
Personality
Nick Army is very ecstatic about weapons and violence and has a brash personality. Though he enjoys these things, he's shown to be a good person. He is in a romantic relationship with Joff, despite their opposing philosophies, and they are shown to love each other.
Abilities and Powers
Appearances
Pilot
Shorts
Season 1
Season 2
Season 3
Games
Trivia
Galleries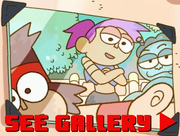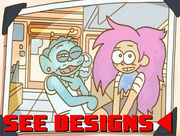 Reference Sources