Jurassic World: Dominion Dominates Fandom Wikis - The Loop
Play Sound
"

I'll show you how a conflict is de-escalated in the flesh.

"
—Carol
"My Dad Can Beat Up Your Dad" is the 14th episode of Season 1 of OK K.O.! Let's Be Heroes and the 14th episode overall.
Official Synopsis
When a bully says his dad can beat up K.O.'s mom, K.O. gladly accepts the challenge on Carol's behalf.[1]
Plot
K.O. takes a very long time ordering food from Burrito Beardo and holds a line with Chameleon Jr. and his gang. K.O. does not understand Chameleon Jr.'s zings and confuses with compliments. Rad suggests K.O. to zing back Chameleon Jr. K.O. and Chameleon Jr. zing each other until when Chameleon Jr. challenges to fight K.O. Chameleon Jr. loses to K.O. as his tongue sticks to Beardo's truck, and claims that his dad can beat up K.O.'s dad. K.O. discloses that Carol can beat up anyone since his dad is absent. Chameleon Jr. challenges Chameleon Sr. to fight Carol.
At the Fitness Dojo, Carol is disappointed in K.O. for getting her to fight. Carol teaches K.O. what "escalating a situation" means and that she will appear at the roof to fight with words to Chameleon Sr. instead of fighting with fists to de-escalate the conflict. At the roof of Gar's Hero Supply & Bodega, K.O. excitedly shouts "Power Battle" until Carol rebukes his behavior. K.O. feels intimidated by the size of Chameleon Sr.
Carol initiates a peace offering with Chameleon Sr., however, he wants to fight because K.O. zinged Chameleon Jr. Carol dodges Chameleon Sr.'s attack moves and tries to reason with him, but he does not listen. Chameleon Sr. claims that Carol is weak like K.O. resulting Carol to initiate the Power Battle. Carol punches Chameleon Sr. and grabs his tongue. Chameleon Sr. sends her down to the roof. Carol lassoes his tail and sends him flying in the air. Then, she kicks him to the roof.
Carol walks up to K.O. believing the fight is over until Chameleon Sr. sneaks his tongue to attack Carol. Carol dodges his tongue but is scooped up by his tail. Chameleon Sr. strikes her to the parking lot and body slams her. K.O. jumps to Chameleon Sr. and offers him the burritos from his lunch bag to de-escalate the situation. Chameleon Sr. declines the offer and swallows K.O. In Chameleon Sr.'s stomach, K.O. accidentally drops his burritos into his stomach making his stomach burn. Chameleon Sr. spews out fire and K.O.
K.O. holds onto Chameleon Sr.'s zipper and unzips his rubber chameleon suit. Carol and K.O. are shocked to see Chameleon Sr. is a large man wearing only boxers and socks. Chameleon Sr. reveals to Chameleon Jr. that he only wears the chameleon suit because he wants to be the best lizard father to his son and his gang. Chameleon Jr. actually only cares that Chameleon Sr. beats up other fathers and keeping him safe. They both walk to their home.
Carol tells that K.O. that he should not escalate situations he cannot handle. They both end up being "grounded" which K.O. initiated the fight and Carol escalating the situation with a Power Battle. K.O. tells Carol to unground themselves to get ice cream.
Features
Characters
Music
Soundtrack
Trivia
Cultural References
Continuity
Videos
Gallery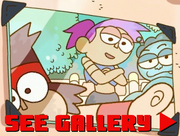 Transcript
View the episode's transcript here.
References List