Mega Football Baby is a minor character in the OK K.O.!. His first appearance was in the pilot "Lakewood Plaza Turbo". He is a giant, genetically enhanced baby that was spawned as the result of a botched government experiment done to try and create the best football player. Mega Football Baby has the maturity of an ordinary baby but the football knowledge of a pro. He, Bell Beefer, and Rad are part of "The Rad Squad."
Appearance
Mega Football Baby has a yellow and with a green line helmet, in which a small part of hair sticks out. A purple suit, white diaper, and blue boots.
Personality
Being a baby, Mega Football Baby is immature in the way he acts. Despite this, he is an exceptional athlete, and is also shown to be very competitive in "Plazalympics".
Abilities and Powers
Spiral toss
End zone spike
Teething
Episode Appearances
Trivia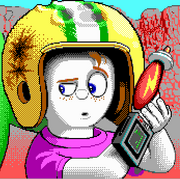 Mega Football Baby's design could be inspired by the character Billy Blaze, aka "Commander Keen," from the game series Commander Keen.

This may be further backed by the appearance of the Dopefish from the same series appearing on a TV near him in the pilot.
Though his production art depicts him with a more vibrant skin tone, every appearance in the series shows him with far paler skin – again, similar to Keen's in-game appearance.

He resembles the main character from Clarence.
His weakness is if he sees a football, he instantly tries to put it in his mouth.[2]
He carries a baby bottle full of sports drink.
Gallery
References List