A level, power level, or hero level, describes how powerful a person is through their Pow Card. Currently, levels are known to range from -100 to 100, but they may go even higher.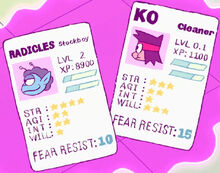 Power levels act as the absolute value of the number shown. This means despite villains' levels being displayed negative, they act as if they were a positive number.
Although it has not been completely confirmed, much like in a video game, XP, or experience points, are used to level up. This is shown in the episode Face Your Fears where K.O. and Rad's XP stats are displayed along with other statistics.
According to Ian Jones-Quartey, Non OK K.O.! characters levels are symbols instead of numerical.[1] For example, Captain Planet has a level of "Planet", Garnet's level is listed as her gemstones, and Sonic has the level of "Ring".
Known character levels
Heroes
Villains
Reference Sources