Jurassic World: Dominion Dominates Fandom Wikis - The Loop
Play Sound
"Let's Take a Moment" is the 45th episode of Season 1 of OK K.O.! Let's Be Heroes and the 45th episode overall.
Official Synopsis
Mr. Gar and Carol fight a villain from their past.[1]
Plot
K.O., Enid, and Rad closes up the bodega and prepares to leave. As they're ready to finish, Carol arrives to pick up K.O. up. Mr. Gar gets ready to exit and spots Carol in sight. He blushes nervously as Carol notice him and gives a friendly greeting to him. Immediately afterwards, Steamborg arrives at the Bodega to destroy and analyzes Carol as Silver Spark and Mr. Gar as El-Bow. It prepares to punch Mr. Gar. Mere moments before the fist reaches his face, Mr. Gar stares at Carol and remembers how good of a team they used to be.
In Mr. Gar's flashback, the members of P.O.I.N.T. takes out an army of Mecha Lizards. Doctor Greyman compliments the team for their efforts in destroying the army and tells them that he has to head out on a solo mission and that they deserve a break. At lunch, El-Bow slowly tries to eat his sandwich. Silver Spark walks past him as she compliments him on his sandwich. El-Bow decides to save the sandwich for later and then Rippy Roo arrives at his table. El-Bow tells Rippy Roo that he is considering on confessing his feelings to Silver Spark. However, Rippy Roo reveals to El-Bow that she is dating Laserblast. Laserblast and Silver Spark eats a big lollipop. El-Bow feels insecure on why would she ever date him. Foxtail arrives at the table to inform the team about an emergency meeting being held by Doctor Greyman at the main hall.
Doctor Greyman informs them about a case with weapons he discovered previously belonging to an unknown villain. Inside of the cases holds three orbs. He uses the orbs to demonstrate the power of the weapons. The blue orb is capable of generating black holes when it explodes. The green orb is capable of shrinking its targets to subatomic levels. The red orb's capability is not precise. But when it accidentally becomes activated by Doctor Greyman, it explodes on him and he loses his powers.
Laserblast suggests to grab hold of more of them to potentially use them against their foes, but Foxtail stops him and says they must find the rest, and disarm them completely. Laserblast plans to try to search for them, and Silver Spark decides to join him as back-up, with El-Bow additionally coming afterwards as double back-up. Foxtail and Rippy Roo stays with Doctor Greyman to attempt to help Doctor Greyman.
Laserblast, Silver Spark, and El-Bow are out in the city near a donut shop as Laserblast tells the two about Doctor Greyman saying that some of the orbs are located directly under the shop. He plans to slip in the area, and disarm the weapons. Laserblast requests them to stay back to be lookouts. Silver Spark is upset about this, as Laserblast feels it is not safe for them to be on the mission. To cheer her up, he hands her a lollipop he had in his mouth, much to El-Bow's disgust.
While staying back, El-Bow tells Silver Spark that they are like a sandwich; "All of the ingredients are good on their own, but combined they create something amazing. A perfect team." Silver Spark agrees that they are a great team, and is glad to have El-Bow as a friend. El-Bow is disappointed by her answer. Before Silver Spark can get to his question, she hears a noise in distance and believes Laserblast is in trouble. She rushes towards the donut shop but is blocked by El-Bow who continues to talk about the sandwich analogy. Within a matter of time, an explosion occurs, and they both run towards the shop. The shop rises from the surface, shrinks, and enters a black hole. Silver Spark yells at El-Bow for ruining her chances of saving Laserblast and says that "it's all his fault." El-Bow drops the sandwich.
Back in the present while time is frozen, Right before Steamborg's fist impacts Mr. Gar, Carol lunges towards him to save him. Mr. Gar is disoriented and wants to know what is happening, and Carol tells him that she was saving him. Mr. Gar feels a moment of grief and wants to explain to her that he is sorry for everything he caused the night Laserblast disappeared. Carol, much more understanding than before, tells him that had he did not stop her as both her and Laserblast would have shrunk to size and be gone and forgives him.
They dodge the attack, and prepare to face Steamborg. Carol and Mr. Gar charge up and strikes with their elbows into Steamborg's eye to destroy him. They hug each other after it explodes. After the victory, Carol decides to head home, but goes to her dojo to "grab her purse." When she heads inside the dojo she checks in through an earpiece, tells an unknown person that everything is in control and that there is no need to send in a unit and ends the call.
Features
Characters
Music
Songs
Soundtrack
Trivia
Continuity
Videos
Gallery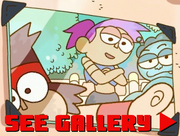 Transcript
View the episode's transcript here.
References List