"Let's Have a Stakeout" is the 37th episode of Season 1 of OK K.O.! Let's Be Heroes and the 37th episode overall.
Synopsis
K.O. joins Mr. Gar on a stakeout.[1]
Plot
TBA
Features
Characters
Music
Soundtrack
Trivia
When Shadowy Figure and K.O. are fighting, Shadowy Figure drops a line suggesting that he isn't working alone.

However, he could have been talking about himself in third person.

When K.O. is about to knock down the door, an instrumental version of the pilot's theme song can be heard.
Production Notes
According to Ian Jones-Quartey, this episode started as a really silly idea to give Mr. Gar and K.O. a camping trip but the story evolved a lot.[2]
Continuity
Cultural References
Enid's voice changes to resemble Harley Quinn's when she asks "What's up Mistah G?" to Mr. Gar.
The scene where Shadowy counters and kicks K.O. away is very similar to the same fight scene between Kid Goku and Mercenary Tao, where Tao dodges Goku's attacks and kicks him away with his hands behind his back.
Videos
Gallery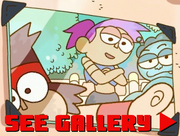 Transcript
View the episode's transcript here.
References List