Jurassic World: Dominion Dominates Fandom Wikis - The Loop
Play Sound
"Let's Fight to the End" is the 18th & 19th episode of Season 3 of OK K.O.! Let's Be Heroes and the 110th & 111th episode overall. It is a 22-minute special episode. It is the penultimate episode and the second and third episode of the Plaza Tournament one hour special event.
Official Synopsis
When a fighting tournament is announced at the Plaza, there is more at stake than meets the eye.[1]
Plot
After T.K.O destroys the Pow Card factory, a fighting tournament is announced at the plaza to help restore everyone's power levels. K.O., who is still inside in his subconscious, is determined to take back control. When Shadowy Venomous makes it clear that he's going to destroy the world, Rad and Enid come into the tournament stadium for one last stand.
T.K.O finishes both Enid and Rad. Afterward, they find Fink and she tells them about the Turbo Collars. Rad and Enid are suspicious, but they take them anyway, following the debut of Trad and Tenid. They get back to the fight and continue as T.K.O is beginning to lose power. Shadowy Venomous finds the Lakewood tree and brings it to the surface to make T.K.O stronger. T.K.O has the power from the Glorbs which makes him stronger than before, and Trad and Tenid get kicked out of the ring. In the meantime, Boxman, the Boxmore bots, and Dendy try to fight him as well but failed after being launched into the sun.
Now that T.K.O has more power, Shadowy Venomous reveals he was only using him for his powers, enraging T.K.O, causing him to attack Venomous. Meanwhile, K.O in his subconscious found T.K.O's house, and he found T.K.O's secret box in the sandbox. He pulls it out and finds an old tape recorder he had when he was younger. He began to play it, turning it to max volume.
T.K.O takes out Fink and Venomous and begins to attack the plaza. Hearing the music, he gets angrier and angrier. Enid, Radicles, Carol, and Gar huddled together, and T.K.O shoots them with his powers, defeating them. T.K.O stops and goes back to the mindscape. When the song stops, K.O rushes over to T.K.O and hugs him. The two talked it out and finally realized that T.K.O isn't a separate person. He is a part of K.O, and K.O is a part of T.K.O, and the two fuses to become M.K.O. M.K.O wakes up and finds the whole plaza destroyed.
The President of the Universe appears to declare K.O. the winner of the tournament. He grants K.O. a wish. K.O.'s wish was "to let everybody live their best life." With this, the plaza is restored and all the heroes return, celebrating their victory. K.O. enjoys his moment with the gang and continues to live his best life.
Features
Characters
Music
Song
Trivia
Production Notes
Continuity
Cultural References
Videos
Gallery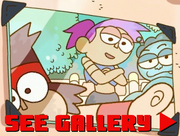 Transcript
View the episode's transcript here.
References List