Jurassic World: Dominion Dominates Fandom Wikis - The Loop
Play Sound
"

Man, Rad and Enid are on another level. I wanna work with them so bad, but I can't even do a cool power move! I can't give up.

"
—K.O.
"Let's Be Friends" is the 2nd episode of Season 1 of OK K.O.! Let's Be Heroes and the 2nd episode overall.
Official Synopsis
K.O. wants to become friends with Enid and Rad and get hired at Lakewood Plaza Turbo.[1]
Plot
K.O. rambles on about Rad's and Enid's attack to Darrell from the previous episode, and K.O. boasts on wanting to be a hero. Enid says that it takes hard work from Mr. Gar and Rad says they fight evil robots from Boxmore to be a hero. Enid explains that Lord Boxman keep making Boxmore bots to attack the plaza, to K.O.'s shock. Meanwhile, Lord Boxman sees the soon to be trio, and recoil in disgust as Darrell's head crashes through his window, Boxman is disappointed him as he admits to Darrell that he send his robots to destroy friendship as he hates friendship himself. An Ernesto bot informs him (Boxman) on a call, but Boxman dismisses him. It shows that friendship lowers his sales, to his anger. After putting Darrell in the furnace, a new Darrell appears. Lord Boxman continue to babbling hate on the bodega.  
Another robot named Shannon appears with a plan to attack the plaza. Back at the bodega, K.O. begins to annoy Rad on to be a hero and he explains anyone can't just become one, evident on his powers. K.O. tells Enid to have a job, but Enid claims he don't want to work here. K.O. reassures that he can help, but Enid explains with her powers that she can do anything. But K.O. fails to use his powers. K.O. wants to help, but not only Enid and Rad turns him down, he ends up getting them hurt.  
A dejected K.O. leaves and his mopes on wanting to be a hero. A disgused Shannon tricks him into infiltraiting Boxmore. At the same time, Rad and Enid looks for K.O., but spots Shannon as well. K.O. hurries to Boxmore quietly, only to be captured by Lord Boxman himself. He manipulates K.O. into thinking that Rad and Enid hates K.O. and never wants to be friends. Rad and Enid enters and decimating through Boxmore to rescue K.O., Lord Boxman frees K.O. to see if Rad and Enid hating on him (K.O.). When they finally show up with a defeated Shannon, Rad and Enid admits to like having him around, and earn their respect, admiration, and friendship, to Boxman's distress and K.O.'s glee. He sends the newly formed trio back to the bodega.
Mr. Gar is mad that Enid and Rad left their posts to save K.O., they want K.O. to work with them at the bodega, Mr. Gar refuses to give him a job as a recomendation from them means nothing. Carol makes a nervous Gar to giver her son the job, he reluctantly does so. Enid gives K.O. a vest (because they ran out of crop tops). K.O. excitedly does a power punch, to the atonisment from Rad and Enid.     
Features
Characters
Music
Soundtrack
Trivia
Production Notes
The client that Ernesto mentioned to Lord Boxman was actually Professor Venomous. Ernesto's original line got shortened due to time.[2]
Continuity
This episode immediately continues from the previous episode "Let's Be Heroes".
Errors
In the beginning, Rad, Enid, and K.O. are seen on the street, cleaning the mess, but in the next scene, they are seen on the sidewalk. Then the next scene shows them back on the street again.
In a scene in Boxmore, Lord Boxman is seen walking down a bridge, but in the next scene, a machine is moving him instead of him walking.
In one scene, Darrell's head breaks through the window and blinds near Lord Boxman's chair, leaving a hole, but a couple of scenes later, the hole in the window has disappeared.
In a scene in Gar's Bodega, Enid is seen laying down on the counter, using the register as a pillow, but the scene after K.O. tries to do a power move, Enid is not laying down or even near the register.
In the scene after K.O. made a mistake in Gar's Bodega, K.O. and Shannon are seen standing on the grass, but a few scenes later, Shannon is seen standing on the boardwalk.
In a scene in Boxmore, Two Ernestos are seen standing on opposite sides of a liquid machine, but in the next scene, they are both standing close to each other, in front of the liquid machine.
When Rad and Enid come to save K.O., Rad is seen on the right side of K.O., and Enid is seen on the left side of K.O., but a scene later, Enid and Rad seemed to switch spots.
Gallery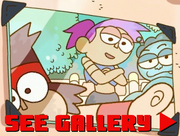 Transcript
View the episode's transcript here.
References List