"Legends of Mr. Gar" is the 17th episode of Season 1 of OK K.O.! Let's Be Heroes and the 17th episode overall.
Official Synopsis
Rad and Enid reminisce about when they started working at the bodega, and discovered how amazing Mr. Gar really is.[1]
Plot
Darrell defaces the Lakewood Plaza Turbo sign, writing that it "smells". He is quickly confronting by K.O., Radicles, Enid, and Mr. Gar. A fight ensues, but Gar easily defeats Darrell, earning the awe of the others. Gar leaves on a secret mission and K.O. recalls how amazing he thought Gar was on his first day. Rad brags that his first day experience was more amazing, triggering a flashback.
Rad recalls his interview with Gar, stating that "my greatest strength is my own strength". Gar seems unimpressed, but an alarm is sounded as Shannon arrives to destroy the plaza. Gar takes the opportunity to test Radicles, but the latter is easily knocked away. Gar asks him if he has any special powers, and Rad describes the levitation beam that his entire family has. Gar encourages him to use it anyway, and the two easily destroy Shannon. Gar states that "Sometimes it's the things we're ashamed of that are worth being of proud of" and hires Rad.
In the present day, Rad flexes his muscles and summarizes that Gar taught him to be proud of his powers. Enid remarks that the lesson only made Rad more conceited than before, and goes on to describe her first day.
Enid, already hired, is seen working the cash register trying to do her best to accommodate the customers. Skateboard Nerd appears looking for wheel polish, but becomes enraged when Enid tells him that they are out of stock. Gar appears asking if there is a problem, and Skateboard Nerd begins complaining to Gar. Gar and the Nerd approach the counter, and Enid begins to explain her side of the situation. Suddenly, Gar picks up the Nerd and yells at him, stating that "We're all out of wheel polish! I'm sorry we can't help you! Thank you for shopping at Gar's!". Enid is visibly shocked by this outburst, and is instructed to finished helping by literally kicking Skateboard Nerd out of the plaza. Gar then tells Enid that "The counter is power! Own it!".
Returning to the present, Enid explains that she thinks Gar is great for helping her be her current apathetic self. Crinkly Wrinkly bursts into the store and says that they know nothing at all, and begins to narrate the story of the "real" Mr. Gar in a deep voice.
In Crinkly Wrinkly's story, Mr. Gar and his robot friend Plazamo lived among the clouds. Descending to the earth, Gar reshaped a large patch of land, where Plazamo proceeded to transform into Lakewood Plaza Turbo (location). Gar grabs a boulder and chews on it, spitting out the plaza's sign, and admires his handiwork. Shrinking down to his present size, someone throws an empty cardboard box at him. Gar follows the person and finds a young Lord Boxman. The two fight, with Boxman easily being blasted across the street to the site of present day Boxmore.
Crinkly Wrinkly ends his story with K.O. in amazement, but Enid and Rad quickly dismiss the tale. Enid warns K.O. against believing Crinkly Wrinkly, who is now seen talking to his own reflection. K.O. expresses disappointment that the story is false, but Mr. Gar suddenly appears behind them and confirms that the story is true. He then slams the ground, knocking his employees back to work. Satisfied, Mr. Gar heads into his office.
Features
Characters
Music
Soundtrack
Trivia
Production Notes
Continuity
Cultural References
Videos
Gallery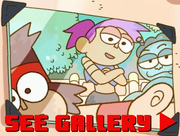 Transcript
View the episode's transcript here.
References List