This article is about the short. You may be looking for the character.
— Soft Canon —
This page contains content that is considered "soft canon" and has an arbitrary placement within the TV series.
"KO" is the first short of OK K.O.! Let's Be Heroes.
Official Synopsis
K.O. learns a new power move, the slide kick![1]
Plot
K.O. is imagining himself as an ultimate hero until Mr. Gar tells him to mop up the slime. K.O. introduces that he works at Lakewwood Plaza Turbo. Enid tells K.O. to stand back from her fight with Shannon. Shannon slams him with a mallet and tosses K.O.
K.O. enters Carol's dojo to get a lesson from his mom. Carol teaches him how to slide kick and informs him to train before attempting the new move. Then, K.O. practices his slide kick and slams into the Dojo wall to the Bodega. Enid tells K.O. to help with the display. While Rad finishes stacking the boxes, K.O. slide kicks into the stack and it explodes. Rad levitates away from the mess and gets angry at K.O.
K.O. slide kicks into the dirt closet, releasing the mess. K.O. can not stop slide kicking and slams into the freezer. Mr. Gar comes to see the mess and tells Enid and Rad to clean the mess. An airplane slams into the Bodega and a crate comes out of it. K.O. escapes from the crate with souvenirs from other countries. Mr. Gar is impressed by K.O.'s "around the world slide kick" and gives him an Employee of the Month title. Enid tells K.O. that his award is to clean up the whole Bodega himself with Rad bringing the mop and bucket. A mop falls onto K.O.'s head.
Characters
Videos
Gallery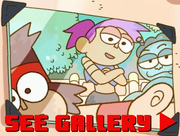 Transcript
View the episode's transcript here.
References List