"KO's Video Channel" is the 40th episode of Season 1 of OK K.O.! Let's Be Heroes and the 40th episode overall.
Official Synopsis
Enid and Rad discover that K.O. has a video channel.[1]
Plot
Rad and Enid tries to perform a dance to a shade'Oboyz music video, but off in the corner of the room K.O was recording both of them, and posted it on his video channel. After Red Action reveals this, an angered Rad and Enid tell K.O to stop posting such embarrassing videos and to delete his video channel. K.O rushes home to go and delete his channel, while Rad and Enid watch some of the videos he previously made in the meantime.
The first video they see features Enid and Rad in a kiddy pool together, and Enid attempts to perform a trick by going on the slide with the floaty, but she instead slips and pushes Rad to the ground.
The second video is a brief scene of K.O putting his "human suit" from "We've Got Fleas" on.
The third video is K.O opening a pack of Pow Cards that his mother Carol gave to him.
The fourth video is an AMV of Rad and Enid being paired together, with footage from "Second First Date" reused.
The fifth video shows a grump Turbo K.O. He rants about how everyone always compliments him and calls him "cute", and claims that no one notices him. Carol then waves at him on the couch from a distance, which leads to him screaming at her. Enid pauses the video and goes to a different one because the current one became too serious.
The sixth one shows K.O hanging over a pit in Boxmore.
The seventh video shows K.O playing with a wizard action figure and a ninja action figure with Enid's face on it. Rad complains about the lack of himself in the video, so he skips to the next video.
The eighth video shows K.O and Dendy going up to Rad's house at 6:15 in the morning. Next to the window, the two of them watch him outside and witness him do pull-ups while in his underwear. Rad spots K.O and Dendy so they flee from his house.
The ninth video features K.O showcasing his top ten favorite Pow Cards, but Rad skips over to the end because he doesn't want to watch the whole video. He sees that K.O states that his two favorite Pow Cards are Rad and Enid because they are his best friends.
The tenth video shows Enid and Rad watching KO's very first video and his first day working at Gar's Hero Supply & Bodega. He shows off his brand new vest that he got and states that he doesn't have many friends where he lives, but states that Rad and Enid are his first two friends and wants to try to get them into a video eventually.
Rad and Enid both feel guilty after watching through all of the videos, and come to the realization that K.O should not delete his channel because he truly wasn't trying to embarrass them, and that it contains lots of memories. K.O then uploads an eleventh and final video saying that it's his final video and that he is going to delete his channel. To prevent this, Rad and Enid go in Rad's van and try to stop K.O from deleting his video channel. K.O forgets his password and takes a long time, which allows Rad and Enid to have the extra time to arrive at his house. To their dismay, Chameleon Sr. shows up on the road which causes them to wait in traffic.
Once they finally arrive, K.O notices them, but then clicks his computer to delete the channel. Rad and Enid feel sorrow for K.O because he shouldn't have deleted his channel because of the amount of memories on it, but K.O is still happy because he still has his memories, and he's never going to get rid of them. He then asks Rad and Enid if they want to help him make movies.
K.O, Rad, and Enid taped a movie while having fun at the same time.
Features
Characters
Music
Songs
Soundtrack
Trivia
This is the first episode without an end card.

The end credits plays the song from KO's "Enid and Rad - Painwreck (AMW)" video, performed by "shade'Oboyz."

This episode was replaced with "Dendy's Video Channel" on YouTube TV for unknown reasons, although its still called KO's Video Channel. This was fixed on September 4th, 2019.
Continuity
Cultural References
In the last clip where K.O. explains why he "killed" Enid, he said it was to "test his true power". This may be a reference to the character Itachi Uchiha from Naruto, who claims to kill his clan to "measure [his] abilities."
The editor K.O. used for the Enid and Rad video appears similar to Windows Movie Maker.
Videos
Gallery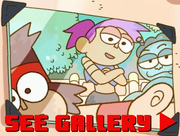 Transcript
View the episode's transcript here.
References List