Jurassic World: Dominion Dominates Fandom Wikis - The Loop
Play Sound
"

Happy Monday, and welcome to K.O.'s Health Week, where I give you healthy tips for a fun and fit life.

"
—K.O.
"KO's Health Week" is the 36th episode of Season 2 of OK K.O.! Let's Be Heroes and the 88th episode overall.
Official Synopsis
K.O. spends a week dispensing healthy tips to everyone in the plaza. [1]
Plot
Radicles and Enid finds a poster of K.O. advertising Health Week. Enid gags at Rad's bad breath. Mr. Gar usually was the one who hosts Health Week until an embarrassing incident from yoga happened last year. Then, K.O. introduces the first day of health week which focuses on hygiene. K.O. sees that Rad infrequently brushes his teeth so he brushes Rad's teeth for him. K.O. washes Mr. Gar's body and then he applies deodorant to Enid. Everyone is happy that K.O. fixed their hygiene.
Tuesday focuses on self-esteem. At the iFrame Outlet store, A Real Magic Skeleton wins a game of tic-tac-toe against Brandon. Brandon harshly criticizes about himself and K.O. and A Real Magic Skeleton reassures that he is a good person. K.O. makes Brandon lift himself up. Brandon smashes the pencil on the desk. The Brandon clone gives him an ice cream for being a good boy. A Real Magic Skeleton is proud of Brandon for not being hard on himself.
Wednesday focuses on nutrition. Colewort orders a very large cheeseburger with a soda. K.O. acts as a "mealman" to tell Colewort to eat fast food in moderation. He recommends to Colewort to replace soda with water and steaming vegetables with seasoning or sauce instead of burgers. Colewort thanks K.O. for the advice.
Thursday focuses on mental health. At the @Cafe, Barista Pup hands Crinkly Wrinkly his coffee. He tells Barista Pup to cheer up. K.O. tells Crinkly Wrinkly that happiness will not always about smiling. K.O. tells Barista Pup to drink water when she feels down and calming her mind with meditation. He recommends her to tell her friend, family member, or write in a journal her feelings. K.O. asks if Barista Pup should join him on an adventure to obtain oneness within the universe, which she declines by sticking with water. K.O. says that doctors are another resource of mental health.
Friday focuses on exercise. K.O. tells Enid and Rad that they are going hiking. Raymond, Darrell, and Shannon crashes to the plaza to fight the Bodegamen. K.O. confronts Darrell that this is about his health week and forces the robots that they will go hiking. The gang has fun hiking. K.O. talks about the positives of exercising and then he inadvertently falls over the cliff. Rad rescues him. K.O. reveals that he was not sleeping well enough due to researching healthy habits for the week.
Darrell informs K.O. that he needs to look out for himself and needs to sleep better daily. K.O. develops hallucinations and then doze off. The Boxmore robots takes K.O. to his home to sleep. On Saturday, K.O. wakes up energized and is glad that health week is over. K.O. is refreshed that he fights the Boxmore robots. He thanks them for the tip.
Features
Characters
Trivia
On November 20, 2018, Toby Jones tweeted of mixing sound for this episode.[2]
Production Notes
Ryann Shannon came up with an idea of the episode to be about healthy work and life habits.[3]
Continuity
The episode take place after "Project Ray Way" as Drupe no longer works at the @Cafe since she previously worked from "RMS & Brandon's First Episode". Barista Pup still remains friends with Drupe.
Colewort eats broccoli again since the short "Commercial" although he is not nervous this time when K.O. gives him a tip to eat healthy.
Cultural References
The cup attacking Colewort bears a resemblance to Master Shake from the Adult Swim original series, Aqua Teen Hunger Force.
Videos
Gallery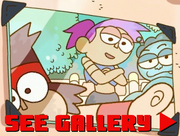 Transcript
View the episode's transcript here.
References List