Joff is a character in the OK K.O.! franchise. He first appears in a cameo in the episode, "Let's Be Heroes".
Physical Appearance
Joff is a fair-skinned hero with a slim build, bald head, 6 dots on his forehead and overall small facial features.
He usually wears an orange traditional Asian attire of sorts (most likely either a Changshan or a Karategi) along with a pair of long plain white socks and small shoes.
In "Plaza Prom", Joff is seen wearing another traditional orange attire, this time being more similar to an uttarasanga.
Personality
Though not much of his personality has been shown, his on-screen time has made it apparent that he is an extremely calm, non-violent and soft-spoken, kind person who is in a romantic relationship with Nick Army, a good-natured yet brash hero who is an enthusiast of violence and weapons. Despite their stark contrast, they are close enough to be seen hanging out most of the time, and to have even been each other's dates for Rad's prom, where they were seen dancing with each other.
Abilities and Powers
Joff can produce energy glow that is teal in color by moving his arms to give himself telekinesis, increase the power of his strikes and create light constructs of his hands to aid him.
Episode Appearances
Trivia
Joff's forehead dots may be scars caused by Moxibustion.
Joff is dating Nick Army, as confirmed by Ian Jones-Quartey on his Twitter. [2]

After several years of dating Joff and Nick live together. Joff is also a messy roommate and Nick Army willingly cleans up after him. [3]

Anyone could kick him in the crotch and he wouldn't flinch one bit.[4]
Galleries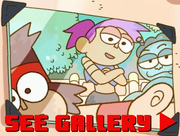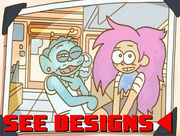 References List