"

Jethro's perfect for you. He's simple, and you're simple.

"
—Radicles
"Jethro's All Yours" is the 5th episode of Season 1 of OK K.O.! Let's Be Heroes and the 5th episode overall.
Official Synopsis
KO gets his first solo mission![1]
Plot
K.O., Rad, and Enid perform an impromptu hoedown. Enid and Rad are bummed for how K.O. end the hoedown. They go outside the plaza after an alarm goes off to face a threat to the plaza, only to find out that they only have to fight a small Jethro. Not caring about Jethro, Enid quickly goes back to the plaza to fix the alarm, and Rad to stock itewms. Rad says to K.O. that he can fight Jethro for himself, commenting they're both simple. K.O. faces the Jethro by himself and defeats him easily. However, more Jethros comes over time, and K.O. defeated them with cool moves. The real threat arrives when a large Jethro comes to attack the plaza, such as crushing Brandon's mom's car.
K.O. is confused on how many Jethros are coming. Rad taunts K.O. for their simplicity and K.O. proves to Rad by battling the large Jethro. K.O. imagines the Mega-Jethro as the small, regular Jethros and feels he can not fight him. K.O. questions on how much they are valued, until the Mega-Jethro is dismantled by K.O.'s light touch.
K.O. goes back to the Bodega to prove to Rad that he is wrong about K.O. and Jethro. Rad uses the drinks to visualize that Jethro only goes to a straight line. They both hear the ground shaking and the heroes at Lakewood Plaza Turbo are terrified by the Mega-Jethro approaching. The Mega-Jethro runs over Brandon's dad's car.
Enid departs from the fight between Rad, K.O., and Mega-Jethro. Rad only decides to tag along K.O. to prove him wrong. K.O. tries to reason Mega-Jethro leading to Rad trying to power punch him, only to badly injure his own hand as a result. Rad is frustrated on why Jethro is not destroyed on the outside. K.O. considers Rad to get inside of the Mega-Jethro.
Enid listens to music to ignore the fight. Rad and K.O. runs around the Mega-Jethro to get to his pupil. Jethro's pupil crushes Rad's hand and K.O. holds onto to Rad. The duo enters the pupil and sees an empty room with a lever and lightbulb inside. Rad states that the inside of Mega-Jethro's head looks like K.O.'s. K.O. defensively states that he should underestimate him and that there must be some kind of hard puzzle to solve. This is immediately shot down when Rad pulls the lever so that it points in the opposite direction, making Mega-Jethro go in reverse.
The two employees made it out of Mega-Jethro's head and watch as he back-up all the way back to Boxmore. Lord Boxman spills his tea on himself. He turns around and sees the Mega-Jethro collide to the Boxmore building, then it explodes. K.O. admits that Rad is right about everything , however, Rad says that he sees the potential in K.O. than Jethro. Lastly, Rad belches on to K.O.
Features
Characters
Music
Soundtrack
Trivia
Continuity
Cultural References
Errors
Videos
Gallery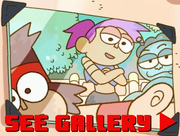 Transcript
View the episode's transcript here.
References List