Jurassic World: Dominion Dominates Fandom Wikis - The Loop
Play Sound
"

You kinda just do things in your own way. It's kinda weird! But it's kinda really cool, too?

"
—K.O.
"I Am Dendy" is the 7th episode of Season 1 of OK K.O.! Let's Be Heroes and the 7th episode overall.
Official Synopsis
K.O. helps a strange girl from school, Dendy, get the parts she needs to repair her high tech backpack.[1]
Plot
K.O. walks and sings while heading to Gar's Hero Supply & Bodega after school. A mysterious figure hides around Lakewood Plaza Turbo leading to K.O. searching for the person. After believing that the tiny dinosaurs were sneaking up on him, he meets Dendy who was the mysterious figure. Dendy notices that K.O.'s environment does not deeply affect him by bringing up his fascination of tow trucks after their bus broke down from their class field trip to the zoo. Dendy requests for K.O.'s help to which he agrees. Dendy shows K.O. her Hack-pack which requires repairs to function properly.
K.O. and Dendy goes to Mr. Logic at Logic Cuts to get the first item, a dilation circuit. Mr. Logic declines to help them but gives them free haircuts. Dendy notices that Mr. Logic's hair clippers is a Logic Model 3000 with laser nose hair sculptor and smashes the clippers to find the dilation circuit. Then, she fixes and optimizes the hair clippers above its original capacity.
K.O. and Dendy heads to the token machine from Neo Rama Game Center to obtain the second item, a disc-shaped copper pewter alloy. K.O. searches for a coin in his pocket but his collection of moths fly away. While K.O. chases to catch them, Dendy rewires the token machine to eject the tokens to get the copper pewter alloy.
Dendy tells K.O. that the final item to obtain is a Glorb and suggests to tear open Mr. Logic's structure. K.O. believes that it is not a good idea and suggests to go to the alley where the Bodegamen throws away the bad robots. Dendy tells K.O. her experience with Glorbs and that once they get it, "that will be it". K.O. comments on "how can that be it... when you're it." Dendy and K.O. runs through the parking lot playing a game of tag. K.O. slams into the gate of the alley and Dendy tags him back.
K.O. climbs over the gate to find a glowing orb attached to the junk fish, as Glorbs are only used on the inside. K.O. taunts the junk fish when it is slowly activated. The junk fish lures K.O. into its mouth. Throughout the night, K.O. punches the inside of the junk fish while Dendy types her observations on K.O.'s information, however, K.O. injures himself while continuing to punch. K.O. tells Dendy to make a will for him, believing that he will die in the junk fish. Once K.O. mentions who will get his Pow Cards, Dendy mentions that she has a collection of Pow Cards and that they could trade with each other. Dendy plugs the junk fish through her Hack-pack to code the junk fish to spew out K.O.
Dendy mentions that her Hack-pack is not broken and they didn't need the Glorb. Dendy confesses that she wants to befriend K.O. by creating a fake quest. K.O. remarks that he had a fun adventure with Dendy and would have her check out his Pow Card collection at another time. Dendy pulls up her Pow Card collection and K.O. is ecstatic that she owns a Professor Venomous Pow card. Finally, K.O. plays another round of tag with Dendy with Dendy adding herself to a list of K.O.'s allies.
Features
Characters
Music
Soundtrack
Trivia
While this episode might have been Dendy's debut appearance, she technically had a cameo from the previous episode.
The song K.O. sings while on his way to Gar's Bodega is a reference to the theme song for "Lakewood Plaza Turbo", the show's 2013 pilot.
K.O. has a moth collection which he keeps in the pocket of his uniform.
While K.O. and Dendy are at the arcade, a game called "M-Elodie" can be seen, which is a reference to the character Elodie.
In K.O.'s will, he leaves Radicles his action figures, Enid his video games, his piggy bank for both Radicles and Enid to split "for college", and that his Mom gets all his comic books. Before he could say where his Pow Cards would go to, Dendy interrupted him when she told him she loves Pow Cards.
Production Notes
This episode was originally titled "We Like Dendy" and would have been the fifth episode in the story order listing.[2]
From Toby Jones' Tumblr post, the episode went through three different story premises before the final one was made.[3]
 Continuity
K.O.'s shows his eagerness of helping someone since "You're Everybody's Sidekick".
K.O. turns to Mr. Logic for robot stuff after his first interaction from "You're Everybody's Sidekick".
Mr. Logic recalls that he left the robot stuff behind when he opened his salon as the flashbacks from "Lad & Logic" revealed he was aligned with Boxmore.

Also, the Junk fish appears in the episode as damaged from the events of "Lad & Logic".

When K.O. pops out from the Junk Fish, a hand comes out which seems to resemble Chip Damage's hand. This would give a hint of foreshadowing.
Dendy knows that K.O.'s level change from "You're Level 100!". However, an animation error occurred where his level is displayed as "0.01" instead of "0.1".
Cultural References
When Dendy says she needs a power cell and K.O. asks if those are like batteries, it references to the game Run 3's Infinite Mode.
After playing tag, a sign is spotted that says "KEEP OUT, please", a reference to the sign on the fence outside the Temple from Steven Universe, another show that Ian Jones Quartey worked on.
Errors
Darrell and Miss Quantum are credited in the voice cast credits, despite not having lines in the episode.
Videos
Gallery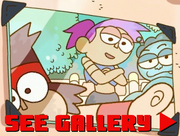 Transcript
View the episode's transcript here.
References List