iFrame Outlet is a frame store situated in Lakewood Plaza Turbo. The only two employees are A Real Magic Skeleton and Brandon. The boss and owner is Sir eFram iFrame, who is also the store's namesake.
Appearance
The store's appearance isn't consistent from the cartoon itself to OK K.O.! Let's Play Heroes.
In Let's Be Heroes iFrame Outlet is shown to be a predominantly purple shop, with a few shades of yellow, a green glass door and window with the same type of glass.
In Let's Play Heroes however, the store is shown to be mostly sea-blue colored, with shades of yellow and orange, a pink door with a transparent glass and a window with the same type of glass.
Indoors the store seems to be the same in both the show and the game; it has green walls covered with frames, including two large framed photographs of A Real Magic Skeleton and Brandon, a floor with orange tiles and a black/dark grey shaded ceiling.
There is also a back room in which Sir iFrame, the boss, works.
Shop
iFrame Outlet specializes in selling frames for photographs, or framing pictures themselves, however, they are also shown selling framed GIFs and cameras in OK K.O.! Let's Play Heroes.
In the episode "RMS & Brandon's First Episode," it was revealed they also frame objects.
Trivia
The name "iFrame" is reference to the element in HTML (HyperText Markup Language) that is used to embed web pages inside other web pages, provided that they abide by the same-origin policy.[1]
Alternatively, iFrame is a common shorthand for "invincibility frames," the term for any brief period of invincibility during an animation such as a dodge roll.
Gallery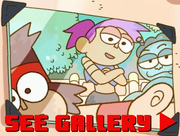 References List