"Hope This Flies" is the 3rd episode of Season 2 of OK K.O.! Let's Be Heroes and the 55th episode overall.
Official Synopsis
Rad attempts to upgrade his van and make it fly.[1]
Plot
K.O. and Enid go to visit Rad by only bicycle. Upon arriving, Rad tells them that he is trying to turn his van into a flying van. K.O. wants to help him, but he says that nobody messes with his van besides himself. He leaves K.O. sad, but says that he could work on his old go-kart.Ofrang leaves the house to offer ants on a log to his son's friends, but Rad says not to accept them. K.O. is a little surprised by having real ants, instead of raisins on his ants on a log.
He warns Rad that using the thrusters could cause a fire and that he could use spare booster orbs, but he makes sure he knew what he was doing. Ofrang offers the orbs to K.O. which he places on the go-kart, making it fly, but it hits Rad's van, causing a fire and destroying it. K.O. feels bad that Rad was upset about the van, so he calls Dendy because he knew she could fix the van and gets a bit surprised to see that she was already there, responding to K.O. that she heard his internal monologue. But when she offers her help, Rad insists that no one touches his van besides him. While he was asleep, K.O. and Dendy sneakily repaired the van, making him believe that he repaired while sleepwalking.
Enid arrives along with Red Action, who says that the changes in the van were good, but it was still a simple van. Rad indignantly retorts that her tank from the future made her look like a sailor. The two decide that to decide which vehicle was better, they would make a race, which arouses the attention of all of the civilians of Lakewood Estates. K.O. and Enid becomes the help team. The two begin the race, making it increasingly competitive. Until Red Action is in the front and Rad believes the only alternative was to jump over a volcano with the paper hang glider that built in the van, but the heat of boosters on top of his van burns it and he falls into the volcano.
Dendy appears and he asks for her help, she rejoices and he assumes he should never have rejected her help, she helps him by showing him what to do with all the upgrades she and K.O. did last night. They win the race, but they accidentally destroy Gar's Bodega and the van. Dendy reassures him that she'll help him make the van look like new again. Shortly after the new van was ready, he lets her add a "and Dendy's" and thus became "Rad and Dendy's van". Then she adds a "Dendy's" in Rad's crop top, smiling.
Features
Characters
Music
Songs
Soundtrack
Trivia
Dendy states she heard K.O.'s internal monologue, implying she is intelligent enough to read minds.
Production Notes
While originally produced as a Season 2 episode, this episode along with "The Perfect Meal" airs part of Season 1's rotation.
Continuity
Enid continues hanging out with Red Action after having a good time from "Back in Red Action".
Rad's rocket from "Everybody Likes Rad?" is used to blast through Flurry's block of ice.

The lyrics to the song that plays when Rad launches the van's rocket are the same as the line he says during his viral video in that episode.
Cultural References
The background music heard in the race is in reminiscent to the original Mario Kart games.
When Enid is explaining the rules for the race, she mentions not to snake. Snaking is an advanced technique in Mario Kart (notably Mario Kart DS that lets you drift back and forth on a straightaway, creating Mini-Turbos.
The "Rad Wing" is a reference to Mario Kart's gliders.
Dendy's quote of "I've found it much easier to ask for forgiveness than permission" is a variation of a quote by U.S. Navy computer scientist Rear Admiral Grace Hopper stating "It's easier to ask forgiveness than it is to get permission."[2]
When Rad and Red Action agree to a race, everyone shouts "It's a race!" including an unusual looking shirtless man with an Italian accent. The man is actor Rowan Atkinson and the moment being referenced is from Rat Race when his character, Enrico Pollini realizes, among the other characters, that he is in a race.
The Jetsons doorbell theme can be heard when Rad gets sucked away when he enters a tube.
When the Sun eats the moon, it is similar to the game Pac-Man.
The flying engine of the van is the Zero-Point Energy engine, a reference to Half life 2 gravity gun.
Route 175 has tracks that resembles Hot Wheels tracks.
Videos
Gallery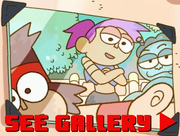 Transcript
View the episode's transcript here.
References List