Holo-Jane is a background character that first appeared in "Let's Be Heroes."
Physical Appearance
Holo-Jane has light blue skin and a slim waist with thick legs. She has metallic legs from the knees down, hot pink pants, a dark blue-violet tank top, and hot pink hair tied up into a ponytail with bangs that swift to one way. She has a long red nose and a chubby face.
Personality
In the episode "Your World is an Illusion", Holo-Jane is very existentialistic and is shown to be hyper-aware of her surroundings to the point that she knows the world is merely a TV show. However, she is still considerate as seen when she feels bad for the existential angst she causes K.O. and goes to comfort and reassure him.
Abilities and Powers
Disappearance: Holo-Jane is shown to have the power to disappear, as shown in the episode, "Let's Be Heroes". She is seen disappearing into blue holograms scattering away when Darrell begins to attack.
Episode Appearances
Trivia
Holo-Jane is a holographic hero. As of right now, the location of her physical form is unknown.
In "Your World is an Illusion", her real body is not in the same dimension as the series and travels through other dimensions. However, her mission is unknown.

Holo-Jane is shown to be able to bypass the fourth wall and is aware that K.O.'s world is a cartoon show.
Galleries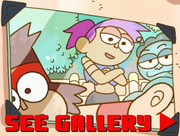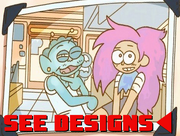 Community content is available under
CC-BY-SA
unless otherwise noted.