Click here to see more of Guard Twins's quotes
The Guard Twins are purple police men that work as security at the plaza's museum and Pow Card Industries. They made their first appearance in the episode "One Last Score".
Physical Appearance
The Guard Twins are identical twins. They have light purple skin and a buff body. They have black beards and noticeable leg hairs. They wear small police caps, blue police shirts, dark blue ties, dark blue shorts, dark blue boots, and dark black sunglasses.
While not wearing their uniform, it is revealed that they have platinum blond hair and chest hair. They wear white tanks, light indigo shorts, mauve sandals, and desaturated blue aviator sunglasses.
History
They first work at security at Lakewood Museum. One of the guards work in front of the museum and the other works guarding the Ponce, however, sleeps on the job. After Ginger and K.O. plan to steal the Ponce, Ginger knocks the first guard with her special knockout fudge. The second guard first was asleep, however, when K.O. and Ginger made noise, he woke up and toke out his canon and blasts to Ginger. As he approaches, Ginger and K.O. tried to escape but got knocked out. The Guard toke them to his office. He felt disappointed over K.O. for taking "the wrong path." The minute he came back, to escort K.O. and Ginger to jail, it turned out that Gladys disguised herself as the guard.
The Guards came to arrest K.O. and Dendy for getting into Mr. Cardsley's lair. They found out K.O. and Dendy were not that sneaky. Once Mr. Cardsley came, he commanded the Guards to escort K.O. and Dendy. They complained that they could not cuff K.O. and Dendy yet. Later on, one of the Guards got trapped into a giant pile of Technos along with other employees.
Both of the Guards collected a baby bottle and place it in the evidence bag. Afterwards, one of the Guards untied the Big Cheese.
While Rad was competing a race against Red Action, he approaches the Guards' neighborhood. They come out to tell Rad that they moved and asked if he wants directions which Rad reluctantly said no.
They are security guards from the Plaza Tournament event held at Lakewood Plaza Turbo.
Episode Appearances
Trivia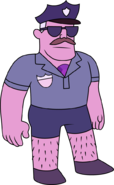 The Guards designs is inspired by Amethyst's Police Shapeshift from Steven Universe. It uses the same exact color palette.[1]
They share a trailer according to "Hope This Flies". The trailer is shaped like a prison like having barbed wire and jail cell as a window for example. The number on the trailer is "191-312".
Gallery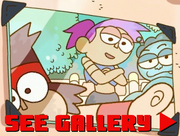 References List