Gregg is one of the minor characters in the OK K.O.! series. They're usually seen loitering around the plaza with Red Action and Drupe.
Physical Appearance
Gregg is a bipedal avian creature that is somewhat taller than K.O. but shorter than Enid, and they have a white beak, feathers, and legs. Their attire is magenta shorts with matching knee-high boots and a teal sleeveless shirt. As seen in "Second First Date", They are seen wearing a light teal eggshell and teal shoes.
Personality
Gregg has low self-esteem and gave up on any dreams of being a true hero. They loiter around the plaza with a group of delinquents. They are kind of a hanger-on, and mostly just squawk in support of whatever Red Action or Drupe say. They have a serious temptation for seeds and will do anything to get them.
Abilities and Powers
Gregg usually just peck enemies when threatened.
Episode Appearances
Trivia
They are addicted to seeds, and will do anything for them.[2]
They are a surprisingly good cook of many international dishes.
In "Second First Date", they were seen having ice cream with Drupe when they were kids, revealing that they knew each other since childhood.
Gregg and Potato are seen having ice cream together in "The Power Is Yours!" and going shopping together in "We Got Hacked".
They and Bobo are the only confirmed characters who are neither male or female and uses they/them pronouns. Gregg is confirmed to be non-binary.
Gallery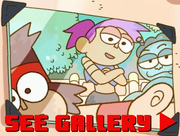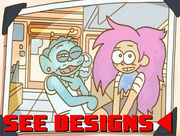 References List