Ginger is a minor character in the OK K.O.! series. She used to be a notorious candy thief in her youth, as revealed in "One Last Score." She is currently a regular at Carol's Fitness Dojo.
Physical Appearance
Ginger is an older woman of short stature (about the same height as K.O.). She wears a grey v-neck sleeveless shirt, with a pink undershirt. Around her waist, she wears a red fanny pack. She wears pink socks shoes, with hearts at the bottom. She has curly grey hair that was red in her youth. She also wears glasses, which could mean that she has bad eye-sight.
Personality
She loves excitement and danger, as shown in "One Last Score", when she looks back fondly on her days as a candy thief. Though she may seem like a kindly grandmother, she will not hesitate to use others for her own gain, as seen in the aforementioned episode.
Abilities and Powers
Ginger is strong, but she moves very slowly due to her age.
Episode Appearances
Trivia
She has a fanny-pack full of delicious hard candy she loves to give K.O.
Her fanny-pack resembles Belly Bag from another Cartoon Network series, Uncle Grandpa.
Her thief outfit is reminiscent of Rouge the Bat's, albeit orange instead of pink.
Galleries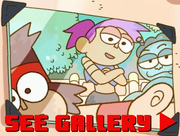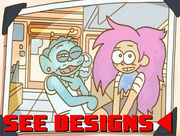 References List